The Rolling Stones concert at Lincoln Financial Field on July 23 was a day that event staff members Steven Rivera and Joann Isbert will never forget. While the music was memorable that hot Tuesday night, Steven's heroic action made the day truly unforgettable.
Joann, who is in her ninth year with the team, was assigned her usual ticketing spot at the Verizon Gate that hectic evening. When she finally was able to escape the busyness of the energetic fans entering the stadium, Joann went to the break room to enjoy her pulled pork sandwich. After she took her first bite, she began coughing and could not breathe.
"I started coughing and drank some water to try to remove the lodged piece of food," Joann said. "I started panicking because it wasn't moving. I was gasping for air and my hands started flailing. As the people across from me started asking me if I was OK, I felt these arms reach around me. These arms came from behind me and started doing the Heimlich. He was like an angel. Before that had happened, I really thought this was the end."
Steven was across the room when he noticed Joann in distress. He dropped his phone and swiftly made his way over to her table and began performing the Heimlich maneuver. After the second attempt, the food was dislodged, and Joann was able to breathe again.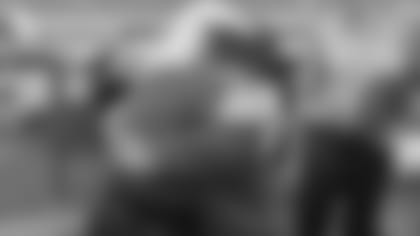 "I was a little nervous, but my actions took over," Steven said. "All I knew was I had to help her. When she told me she was OK, I knew I had done my job. Wherever I work, I consider my coworkers as my family. As long as she was OK, that's all that mattered."
The hero began working at Lincoln Financial Field this year and this concert was his first official event. Steven has CPR and EMT training, but this is the first time he was called into action. Although he remains humble, Joann knew he had to be acknowledged for the miracle that occurred in the break room.
At the first preseason game against the Tennessee Titans, Steven was honored with Gold Wings. This award is given to a staff member who creates a one-of-a-kind guest service experience and is the highest achievement an employee can earn. Steven Rivera is the first staff member to receive this prestigious accolade.
"I was so happy that they decided to give him the Gold Wings," Joann said. "He deserved to be recognized like that. I thank God for Steven. Tears come to my eyes every time I think about it. I'm just so glad he was there for me."
Before Steven received his Gold Wings, Joann was able to share the story of the life-saving act in front of an assembly filled with coworkers, supervisors, and Eagles front office staff, including president Don Smolenski. While this incident was scary and nerve-wracking, it has created an unbreakable friendship between Joann and Steven.
"I'm not the type of person who needs recognition for doing my job," Steven said. "I was completely shocked at the Gold Wings ceremony. It was so unexpected and such an honor that it gave me chills. I saved her life and I would do it for anyone."