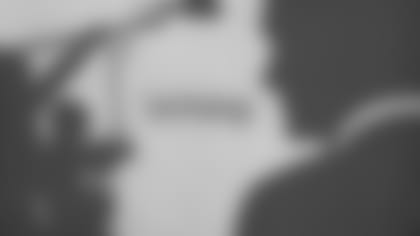 The Eagles' locker room inside the NovaCare Complex is set up as one long, rectangular room. Each side of the room, on your left and right when you walk in, is bordered by the players' lockers from end to end, with small spaces in between certain lockers that lead to the players' lounge, the showers or the training room.
The lockers are cut into the wall to allow players their own personal space with plenty of room to keep all of their personal belongings and to sit back and relax before lunch or a meeting. It's a simple setup that allows for a lot of open space in the middle of the room for players and the media to walk around during the availability after training sessions.
(Play the video below for some great background music while reading the rest of this piece)
But in the middle of this spacious sanctuary, lies two separate blocks of four portable, wood-finished lockers. Unlike the other "normal" lockers, these square pods of four locker stalls are right out in the open in the center of the room. If you think of the rest of the locker room as the City of Philadelphia, these stalls form a compact neighborhood right along Broad Street.
It's a neighborhood I like to call Center Sitty.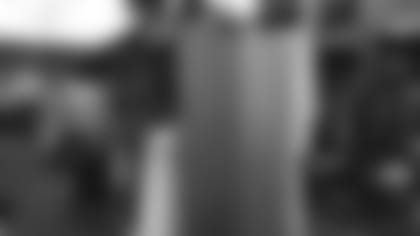 There's no doubt that Center Sitty is a necessity. There are only so many permanent locker stalls built into the walls, (which you can see in the photo above) and when players are placed on Injured Reserve and new players come into the building, they need their own locker. During Training Camp and OTAs, Center Sitty is a very large, bustling neighborhood because the roster is at 90 players, but once the roster gets cut down to 53, only a few players have the honor of living in Center Sitty.
Currently, there are eight lockers making up the neighborhood with just five players occupying them – linebacker Steven Means, cornerback Mike Lee, linebacker Brandon Hepburn, defensive tackle Travis Raciti and tight end Chris Pantale. Four of the players are on the practice squad and Means was just signed to the active roster last week.
We hear from players outside of this small but close-knit community often, but I had to take a trip there to speak to some of the residents about life in the middle.
Lee was signed to the Eagles' practice squad in mid-November. He was released by the Eagles this past Monday, but was re-signed a day later after safety Craig Bills failed his physical with the team. After a very brief vacation, Lee returned to Center Sitty, a place he enjoys calling home.
Alex Smith: So what's it like having one of these middle lockers?
Mike Lee: (Laughing) It's kind of cool. You stand out. I mean my locker isn't as big –
AS: Oh they aren't as big?
ML: No, they aren't as big, but you know, we make the space work.
AS: Do you want to be over there (points to the lockers across the way) or do you like being here?
ML: I don't know. It's not really that big of a deal, once I got used to it. Like my first week here, I was just used to having everything all out in the open because I didn't have that many drawers and stuff, but now that I've gotten used to it, it's not bad.
AS: Is it tough to always have reporters walking by?
ML: Yeah, it's just part of it. At first, it was just weird. The first week is weird. I'm just changing and stuff and reporters are walking by, but now that I've gotten used to it, it's pretty cool.
AS: Have you gotten to know (neighbor) Brandon Hepburn pretty well?
ML: Yeah, he's my locker buddy right here. Me and him have gotten pretty close. He's a funny dude, man. We're always cracking jokes.
While Lee seems to be genuinely enjoying his time in the middle, tight end Chris Pantale is a little bit less enthusiastic about life in Center Sitty.
AS: Chris, what's life like in these middle lockers? You get two lockers right (The locker next to Pantale is currently unoccupied)?
Chris Pantale: The only thing I complain about is not having a chair. ... That's the most depressing thing about it.
AS: But I guess you get a little bit more space right?
CP: It's difficult when the media guys come in here because right in this area is a big traffic jam.
CP: Yeah, It's tough but I make due. As long as I have a locker, ya know?
Earlier this month, Center Sitty lost one of its residents to life on the outside. Offensive lineman Barrett Jones was set up in the middle upon first arrival, but when Miles Austin was released in early December, Jones moved to the outside.
According to Lee, players who leave Center Sitty aren't viewed the same way upon departure.
AS: You guys in the middle here, do you have to stick together?
ML: Oh yeah we definitely have to. We lost one. We used to have Barrett Jones on the other side, but we lost one.
AS: So do you guys not talk to him anymore since he left?
ML: (Laughing) He's been shunned.
I caught up with Jones to ask him about moving on up to life on the outside.
AS: So when you first got here, you were at one of these middle lockers. What was that experience like, compared to where you are now?
Barrett Jones: It's definitely better in the big locker.
AS: What's the biggest difference?
AS: I was talking to Chris Pantale and he said the stools aren't the best. Can you confirm that?
BJ: The stools are not great. They're an awkward height. It's like in between a stand and a sit, but I don't know. It was fine. They told me they would give me a different one soon and they did.
Center Sitty, while a smaller neighborhood than some of the outlying neighborhoods that make up the Eagles' locker room, is one of the most charismatic and charming areas in the region. While it is much more quaint, the residents seem to have a passion that is shared throughout the community. If you ever have the chance to visit the locker room, Center Sitty is a can't-miss destination on the list of tourist attractions inside the NovaCare Complex.
Have a good weekend, everyone.