The same game that David Akers' NFL record postseason field-goal streak started won't exactly be remembered for that.
Akers hasn't missed a postseason field goal since Jan 11, 2004, five years to the day from Sunday. It's the same day that the streak started with two consecutive field goals after that miss. But that NFC Divisional playoff win against Green Bay will be noteworthy in Eagle lore because of the key play to set up Akers' first field goal.
You might remember it – it's known as "fourth-and-26." But just a few downs after that improbable first down, an Akers field goal sent the Eagles into overtime against the Packers, where he would subsequently win the game with another conversion.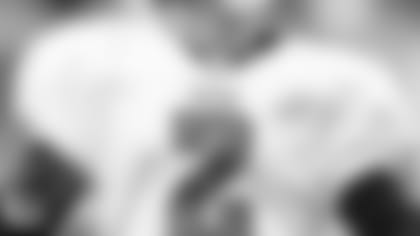 K David Akers
Starting with that game-tying 37-yard kick, Akers has edged himself into the record books with 18 consecutive playoff field goals. And his performance at notoriously tough Giants Stadium on Sunday helped the Eagles into their fifth NFC Championship game of the decade – a round in which Akers is a perfect 5-of-5 on field goals.
"Somebody just told me (about the record); that's truly amazing," Akers said after the Eagles' 23-11 victory Sunday over the defending Super Bowl champion Giants. "It's been just an unbelievable day for us. I'm so happy."
It's been a heck of a run for Akers, who's had about as up-and-down a season as a kicker can have in the NFL. Early struggles led to questions as to whether or not Akers' best days were behind him. He's had two blocked field goals returned for touchdowns this season at pivotal moments that temporarily shifted momentum. He endured a long streak of futility converting field goals of more than 40 yards – just 2-of-10 in 2007.
But coaches were confident Akers had just hit a rough patch. He's responded beautifully. He kicked an Eagle record 33 field goals in 2008, including converting his last two from 50 yards or longer. He set the Eagles' all-time single season franchise scoring record with 144 points.
And against the Giants, he tied, then set, the record playoff mark with 18 consecutive conversions. In all, Akers has made seven field goals this postseason, with an indoor game at Arizona coming up. His 3-for-3 performance on Sunday was impressive, especially considering his subpar 11-of-22 line at the Meadowlands prior to the game.
"David's in the latter part of his career," head coach Andy Reid said Monday, "and has never kicked better than he's kicking right now."
Reid's assertion raises an interesting point. Akers is rarely grouped in with the longest-tenured Eagles that have enjoyed all the playoff success – and heartbreak – that Reid has during his decade-long career. Akers has kicked in every playoff game that Reid has coached. The only Eagles to play in as many Reid-coached postseason games are Brian Dawkins, Jon Runyan and Tra Thomas. In addition to those players, only Donovan McNabb has been around for all of them.
So Akers, as much as anybody, knows what's at stake in Glendale, Ariz., this coming weekend. There's a certain streak he wants to continue more than his field goal mark.
From a personal standpoint, Giants Stadium was his steepest climb. But there are two steps left.
"What an unbelievable football game to watch," Akers said. "But it's on our way out to Arizona, and hopefully we can get to the Super Bowl."