Following a hard-fought divisional win against the New York Giants, the Eagles will once again be back on the road this weekend, taking on the Tampa Bay Buccaneers. Despite the Buccaneers 0-4 record, offensive coordinator Pat Shurmur believes that their defense will present a difficult task.
"We're going to play one of the top defenses in the league," Shurmur said prior to Tuesday's practice. "They're different, in style, than the Giants. The Giants were probably bigger and more physical inside. This is a fast defense that runs around, so it's going to be important for us to be able to block movement. Just like every week, we've got to do a good job of beating man-to-man coverage outside."
The most high-profile name on the Tampa Bay defense is All-Pro cornerback Darrelle Revis, who is playing in his first season with the Buccaneers after tearing his ACL as a member of the New York Jets last September. Shurmur believes that Revis is playing well, but he made a point to highlight some of the other talented players on Tampa Bay's defense.
"Revis is playing at a high level," Shurmur explained. "The reputation that he has of being a shut-down corner, you see that on tape now. I don't know if he's all the way back, but they're playing at a high level. We went through yesterday and watched last year's game as a staff with Nick (Foles) playing, as you remember, when we won the game on the last play of the game. It was one of those gritty, hard-fought games, and now they have the same style of defensive but they added some really dynamic players. They've got good players at every level, not just Revis. (Gerald) McCoy is a really good player, Lavonte David at the linebacker level is really good and that pair of safeties (Mark Barron and Dashon Goldston) is as good as we're going to see in the league."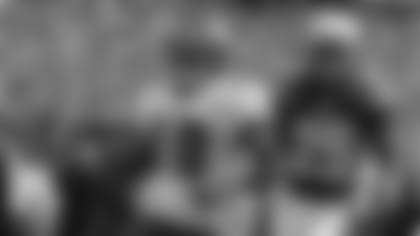 As the Eagles attempt to get back to the .500 mark against Tampa Bay and their talented defensive unit, Shurmur and the rest of the coaching staff are looking back at last week's game against the Giants to see what they can improve upon - namely eliminating penalties and capitalizing on red-zone trips.
"Every game there's the good, the bad, and the ugly," Shurmur said. "I thought the good was that we didn't turn the ball over. You hear Coach Kelly talk about what you do with turnovers, and we had 17 points off of turnovers. The biggest thing to me is that I want us to be tough to beat, and when we have three pre-snap penalties and then we drop some balls, those are correctable errors and those are probably the things that we focus on the most.
"I still think we need to be more effective in the red area. I think early in the game we got down there and had a third and one and we didn't get it so we kicked a field goal … There still were some bad plays in the red area that we've got to try to clean up so that we can stretch the score out if it presents itself early in the game."
The Eagles are searching for ways to score touchdowns from inside the 20-yard line, and Shurmur believes that DeSean Jackson could be the key. According to Shurmur, Jackson can be used in a number of ways around the goal line, despite the fact that he doesn't possess the size of a prototypical red-zone target.
"I think that DeSean can be effective up and down the field," Shurmur said. "A lot of DeSean's touchdowns come from out (of the red zone) because he's fast and he finds a way to get open. The first thing that comes to mind in the red zone is the big target that you throw a fade to. There are a whole lot of other concepts that are utilized in the red zone. I think he can be effective, just as long as you're getting open."
Jackson figures to a play a pivotal role in Sunday's game, but the question of who will be throwing the ball to him and the other receivers is still up in the air. Chip Kelly said that Michael Vick is day-to-day with his hamstring injury, which could leave the door open for Foles, who beat the Buccaneers in Tampa last season for his first career NFL victory. Eagles coaches watched the tape from last year's performance, and Shumur and company feel very confident in Foles if the he does indeed get the start.
"I thought that he battled all the way through it and it was a gritty performance," Shurmur noted. "We all know how difficult it is to win in this league. We talk about it every week. It's difficult to win on the road against what I would consider a very active and physical defense, and he led the Eagles to victory last year and there were a lot of players that weren't in there. At the time, the Eagles were dealing with a lot of injuries, so there were a lot of so-called role players in there playing a lot. He led the team to victory, and that's really what you rate your quarterback on."