General manager Howie Roseman has surrounded himself with an experienced player personnel staff. On Wednesday, Roseman and his staff met with members of the media at the NovaCare Complex. Many of the personnel executives raved about working with head coach Chip Kelly, while also comparing him to some of the coaches that they have worked with in the past.
Ed Marynowitz, the Eagles assistant director of player personnel, worked at the University of Alabama from 2008-2011 as the Crimson Tide's director of player personnel. While there, he worked with Nick Saban, who has become the most successful coach in Tuscaloosa since Bear Bryant. Marynowitz sees similarities between Saban and Kelly.
"I think there are a lot of similarities in terms of they're both very process oriented instead of results oriented," Marynowitz told reporters. "I think just the attention to detail, the work ethic and what they're looking for, having a defined set of factors for each position, clear communication, I think those things are the similarities that they share."
Player personnel executive Rick Mueller was in New Orleans when Sean Payton became the head coach of the Saints. Although the circumstances surrounding the team bringing in a new head coach were very different, he says that Payton and Kelly handle their business in similar fashion.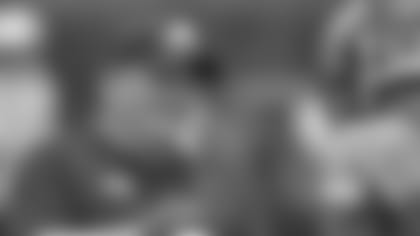 "I have (seen similar things)," Mueller said. "From our experience, when we hired Sean it was a completely different situation because we were just coming off of the (Hurricane) Katrina year. We were all getting back to New Orleans from San Antonio and all of that mess, but it was a great experience for me in New Orleans to be able to be a part of that, to be a part of the interview process and speak with candidates and talk to them. Sean in that group really stood out. The group of us that spent some time with him, we kind of knew that he would be a special coach and he's kind of turned out to be that...I can see some of those similar things in Chip. He's not afraid to do things differently. He wants to do things his own way. So I think they followed a similar process here and ended up coming up with Chip, and I think it worked out well."
Mueller also raved about Kelly's innovative style and the way that the first-year head coach has been attempting to create a winning attitude in a relatively short period of time in Philadelphia.
"He's an innovator and I don't know that he attempts to do things differently, I just think he does things the way that he thinks is going to be successful," Mueller explained. "One thing he does- we don't do anything just because that's the way it's been done. He does it with the idea of 'Hey, we're going to do this and it's going to make us better', and he encourages people to ask why we're doing this and why we're doing that, and he's always got an answer for it. I like the fact that he'll do things differently and challenge it and think outside of the box and those type of things. I think that's really what makes him different.
"He's trying to set an atmosphere of competitiveness, an atmosphere of winning, an atmosphere of thinking outside of the box, an atmosphere of maximizing everything that we have from a resource standpoint, be it players, be it scouting, whatever it is. He is going to maximize those opportunities and he takes advantage of everything we've got to offer."
Tom Donahoe, the team's senior football advisor, has been with the Eagles for two seasons, but he's been around professional football for much longer. An architect of the Pittsburgh Steelers teams of the 1990's, Donahoe says that Kelly has been great to work with and that his passion and intelligence should translate well to the NFL level.
"I didn't really know Coach Kelly that well when I came here," Donahoe says. "It was really a joy to work with him in the draft. He's got so much energy, and he's got passion, and he's got a good feel for what he wants, you know the types of players that he's interested in. He did a good job of conveying that to all of the scouts and all the personnel people, and I think as coach Kelly grows here, it's only going to get better because we'll all get on the same page. It was difficult the first draft because you've got so many different ideas and so many different concepts, but I think as we worked through the concepts everybody got on the same page.
"Coach Kelly has been extremely successful everywhere that he's coached, and his offense has been successful. Will it work the same way that it worked in college? We're going to find out, but he's very passionate in what he believes in, he really knows what he believes in. He's extremely bright, extremely intelligent. The players have bought into to it so it's going to be fun to see how it goes. He may have to tweak it, but the thing that I noticed about Coach Kelly is that he doesn't have tunnel vision like 'Hey this is it. We have to toe the line and we're not going to vary with anything that we do.' He's bright, and if he needs to make adjustments and tweak things, he's going to do it. So my initial observation –Is it going to work? Yes, it's going to work, but it might not be exactly the way it was at Oregon, but Coach Kelly and his staff, they're going to find a way to make it work."