Asante Samuel, like any good cornerback, has a short memory.
The position, he said, is all about fresh starts. Drop a costly, almost certain interception in the Super Bowl, one he'd make "Nine times out of ten"? Forget about it. Get criticized for his support on one of the most famous catches in the game's history? Ignore it.
Suffer a hamstring injury during the first contact practice since signing a lucrative six-year deal with the Eagles? Fight through it.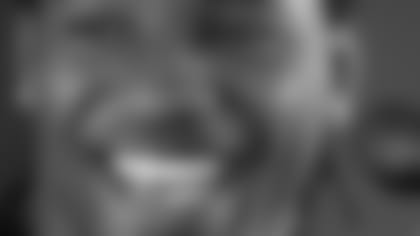 CB Asante Samuel
Samuel is a playmaker. It's why he was offered that deal in the first place. So when he isn't doing what he does, it's trying. Since June's Organized Team Activities (OTAs), Samuel has strained both of his hamstrings, severely limiting his practice time, steepening his learning curve and preventing him from making plays.

"As soon as it happened again, I was like 'Oh, gosh. Not again,' " Samuel recalled.

On Tuesday morning, Samuel participated in his first full workout of training camp, the same fields at Lehigh University he limped from three weeks ago. Though almost completely silent in the interim, Samuel's been there.

He was watching as he rehabbed with trainers and conditioning coaches. He studied film. He talked with his coaches. He paid attention.

So, in every way possible, he was preparing himself to play in Thursday's preseason home opener against Carolina.

"I'm a competitor at heart. I love to compete," Samuel said. "If my brothers are out there, and I'm not out there, it's kind of frustrating."

Though immediately handed the left cornerback starting spot the moment he initialed the dotted line, he's not the big-bucks outcast some might think. Samuel said he's fit right into the secondary fraternity in Philadelphia. He's "pretty tight" with Lito Sheppard and Sheldon Brown, who've helped ease his transition into coordinator Jim Johnson's defense.

In particular, Samuel, who missed all of training camp in New England last season with a contract dispute before reporting to the team, said he and Sheppard have found some common ground to stand on. Sheppard, a two-time Pro Bowl cornerback, has been vocal in his request for a new deal.

"We talk about it," Samuel said. "I give him my pointers and my opinion on the whole situation. We can relate (through) that, definitely."

There's no doubt about it, though. With everyone in uniform, the Eagles are loaded at cornerback. There will certainly be an adjustment time for Samuel, on a defense that constitutes more press, in-your-face coverage than he ever played with the Patriots.

But Samuel said he'd inject "(his) own style" into the schemes, presumably to allow him to continue forcing turnovers and making the plays that he's become famous for, to the tune of 22 interceptions and three touchdowns in his five-year career.

"I just want to see him play," Johnson said. "I just want to see how he plays, how he adapts to our defense, and if he has problems with certain things. I'm just curious to see how he plays, really."

Is Samuel 100 percent healthy and well-conditioned? Probably not, Johnson said. But he's good enough to get going. For right now, Samuel doesn't expect fans to ignore the fact that the Eagles' free-agent luminary has been less-than-conspicuously absent.

But come a couple weeks, he thinks he'll help them forget about it.

"I just go out and play ball, the way Asante Samuel knows how to make plays," Samuel said. "I look at it day in and day out, no matter what (the media) are saying, what people are saying about (how) I'm a good corner because of system or whatever. I just go out and make plays."