There is a misconception, according to DeMeco Ryans, that the Eagles middle linebacker is not a good fit in a 3-4 defense. The perception exists because Ryans was traded to the Eagles from the Houston Texans following the 2011 season, a year in which the Texans switched from a 4-3 defense to a 3-4 defense. However, that season, Ryans will tell you, the Texans' 3-4 defense ranked as the No. 2 ranked defense in the league.
"There's a big perception that 'DeMeco doesn't fit in a 3-4,' whatever," Ryans said Thursday. "I played in that defense, I played with the Texans in the 3-4 defense when we were the number one, number two defense in the league, so if I didn't fit in there then we wouldn't have been that highly ranked. It's all about being versatile. As a linebacker, you have to be versatile, 4-3, 3-4. Whatever it is that this coaching staff is looking for me to do, I'm willing to do that. I've done both, so I'm open to whatever it is."
Ryans later added that the specific Texans scheme called for only one true linebacker to be on the field in pass-rushing situations, a role that was filled by Brian Cushing. The questions about Ryans' ability to play in a 3-4 defense come up, of course, because the exact identity of the Eagles defense under coordinator Billy Davis and head coach Chip Kelly is so far unknown. Ryans said that he's only at the very beginning stages of learning the scheme, but that he's looking forward to playing whatever role is asked of him.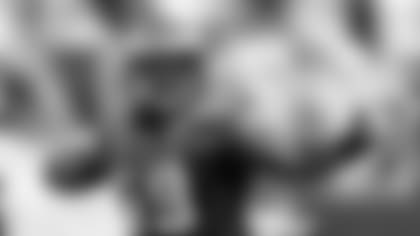 "I'm doing whatever these coaches want me to do," Ryans said. "I know Chip's going to put us in the best position to win. So whatever that position is for me, whatever my role is for this team, that's what I'm here to do."
That willingness to do whatever's asked of him fits into the old trope of Ryans being a leader in the locker room. But there's a reason Ryans is always mentioned in that vein. Take, for instance, his answer to a question asking whether he was frustrated in trying to take on a leadership role in his first season in Philadelphia last season.
"The thing is, it wasn't frustrating," Ryans said. "Nobody wants to lose. But you still have to press forward, because as a leader, you can't just be a leader when everything is going good, everybody is winning, 'Oh, I'm the leader, look at me.' No, it's, when things are going bad, I still had to step up and do my job and lead the guys even though we weren't getting the best outcome that we wanted. That didn't make me shy away from the leadership role."
Now, with a new coaching staff in place and a bevy of turnover in personnel on the defensive side of the ball, Ryans is ready to get back to work.
"When you come into a new situation with this change and new coaches, we all have to kind of learn each other over again, learn the coaching staff," Ryans said. "We have a lot of new players in the locker room, so it's going to take time to build that camaraderie in the locker room, that oneness of the team and as that comes along the leadership part definitely will be there and I'll definitely assert myself.
The process of the team getting acclimated to one another is part of what makes the offseason so important, Ryans said.
"You have to hang around each other to get to know each other," he said. "So it's not just hanging out here but also off the field. We have to grow close together as a unit and I think that's something that we have to do more here."