Can you really blame Eagles defensive coordinator Jim Johnson for wanting to take Plaxico Burress out of the Giants' offensive attack?
Entering the two teams' Nov. 9 matchup, Burress had been a gigantic thorn in Johnson's side. In seven career games as a Giant against the Eagles, Burress hauled in 36 catches for 633 yards and six touchdowns.
But this season, Johnson wanted it to be different. With an extremely talented secondary, Johnson wanted Burress shut down. On Nov. 9, Burress had just one catch – a 17-yard touchdown reception. Pretty good job by the defense, other than the touchdown.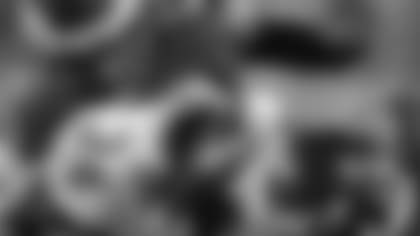 The Eagles must slow down the league's top-ranked rushing attack
But, it turns out, Burress wasn't really necessary for the defending champs. The Giants, led by Brandon Jacobs, gashed the Eagles for 219 rushing yards to pace their 36-31 win at Lincoln Financial Field. It was a porous performance for the defense that compelled Johnson to say he "probably spent too much time" on developing cover schemes as opposed to stopping the run.
But this past Friday, Burress, already sidelined with a hamstring ailment, accidentally shot himself in the leg in a Manhattan nightclub.
On Monday, Burress turned himself into authorities on a weapons possession charge. In turn, the Giants suspended him four games for conduct detrimental to the team, and placed him on the Reserve/Non-Football Injury list. Long story short, Burress' season is over, and his career with the Giants is very much in doubt.
But for the Eagles, it's one fewer weapon they have to worry about.
"It takes a little pressure off … To stop the run is a challenge this week, so we'll see if we can handle it," linebacker Akeem Jordan said.
To game plan similarly without Burress is one thing, but his absence on the field is surely another. Without his 6-5 frame creating mismatches down the field, the Eagles might be able to afford throwing some help into the box against the three-headed monster of Jacobs, Derrick Ward and Ahmad Bradshaw.
Though Ward and Bradshaw had both been designated persons of interest in the Burress case – Ward was mistakenly identified as being at the scene, when it was actually Bradshaw – both are expected to play Sunday. So their presence will likely be Johnson's No. 1 focus on Sunday.
But make no mistake – the run game fuels New York's offense. In that respect, how much will actually change?
"It's not too much changing the game plan because of the nature of their offense," defensive end Darren Howard said. "But I think when you have a player like Plaxico Burress, you have to account for him."
Instead, Johnson will have to account for longtime Eagle-killer Amani Toomer, youngsters Steve Smith and Sinorice Moss and up-and-comer Domenik Hixon. Hixon, the team's primary punt returner, didn't have a catch against the Eagles in Week 10, but has caught 11 balls over the last two.
So, there's no doubt Burress makes the Giants more versatile, but they're still incredibly dangerous. After all, it was the run that hurt the Eagles in Week 10. And it's the run they'll need to stop in Week 14 to keep their playoff hopes alive.
Easier said than done. But it's got to be done.
"Plax definitely brought a weapon to that offense that is unique in his ability to create problems, sometimes. But, the bottom line is that offensive line has been together forever, they know what they're going to run, they're very good at what they run," free safety Brian Dawkins said. "It's about executing. It's about not staying blocked. It's about having a relentless attitude and being able to last and win that fourth quarter, which we haven't done against this team in a long time."