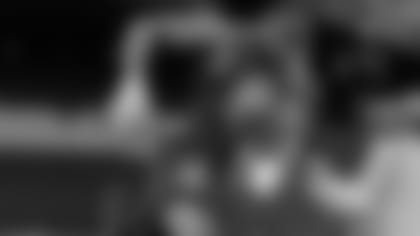 This time, the report comes straight from the player himself. Former Oregon State wide receiver and defensive end -- yes, that's right -- Obum Gwacham wrote about his pre-draft visit with the Eagles in a draft diary for Oregonlive.com.
"I felt like they're the knd of staff I'd like to be around," Gwacham wrote. "When I was with Coach McGovern, I feel like I picked up the same vibe as when I took my visit to Oregon State. Everyone was very welcoming. Everyone there, they went out of their way to introduce themselves to me and all that. Coach McGovern, he seems like a very good coach. He seems like the kind of coach that I'd want coaching me."
Gwacham is a unique prospect. At 6-5, 246, Gwacham made the move to defensive end as a senior and showcased some impressive traits for a pass rusher. Here is NFL.com scouting report on the former wide receiver:
"Explosive athlete with only one year of experience at defensive end after transitioning from wide receiver. Gwacham lacks the functional strength to play the run and he's still in the infant stages of learning how to rush the passer. His desire and character combined with his superb physical traits could make him a late-round project who teams show patience with as he gets bigger and continues to learn the position."