Even though he's officially listed as questionable, running back Brian Westbrook fully participated in practice on Friday and should be in uniform when the Eagles face the Washington Redskins in a pivotal NFC East contest on Sunday at Lincoln Financial Field.
That's an upgrade from the previous two days when Westbrook was limited in practice.
"He was able to get through everything," Reid said. "It looked like he did it well. We will just see how he feels later today and then tomorrow. Most importantly, we'll see how he feels on Sunday."
Reid was non-committal about how much, if at all, Westbrook will play. Perhaps Reid wants to keep the Redskins guessing, which would explain why he wouldn't say how much running back Correll Buckhalter will be used against Washington.
"We will see how it goes," Reid said. "I'm not going to say yea or nay on that, but we'll see how it all works out."
The only Eagle that didn't practice on Friday was guard Shawn Andrews, who is still being hampered by a sore back.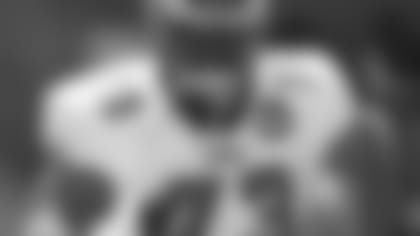 G Shawn Andrews
Andrews saw a specialist on Wednesday, but he was listed as doubtful heading into Sunday's game.

"They said he had some tenderness in there and some inflammation," Reid said. "That's what is causing the pain."

According to Reid, Andrews is day-to-day and, as of Friday, there were no plans for corrective surgery.

"He has had a disc problem back there (in the past)," Reid said. "So, the disc is bothering him, but it's also causing spasms back there. That becomes the issue."

Andrews missed most of training camp due to symptoms of depression, but Reid doesn't think that had any effect on his current situation. In fact, Reid thinks Andrews misses being on the field with his teammates.

"I think he wants to play," Reid said. "It's one of those things. It's unfortunate, but it's one of those things."

Wide receiver Kevin Curtis has been practicing with the scout team and seems like he's inching ever closer to being healthy enough to play.

There's an outside chance Curtis could see action against Washington, but Reid said not to hold out too much hope.

"I don't know that," Reid said. "If he did, it wouldn't be much; it would be like (receiver) Reggie (Brown) the first week (he came back from injury)."

When Brown returned from his hamstring injury earlier this year, the Eagles slowly brought him back into the offensive flow.

Brown saw limited action against the Steelers before leading the team in receptions against Chicago.

Just last year, Sav Rocca became the oldest rookie in NFL history at 33 years old. After a 15-year career in the Australian Football League, Rocca's cannon of a leg was too good for the Eagles to pass up on even though he never had worn a helmet and never had to precisely control the football the way an NFL punter does. And for good measure, he also had to learn to be the placeholder for David Akers' field goal attempts.

The move has paid off for the Eagles.

In just the first month of his second season, Rocca took home the NFC Special Teams Player of the Month award for September. He is the first punter in either conference to win the award since Buffalo's Brian Moorman in November 2006 and is only the second Eagle to be honored for special teams.

"It's something that you don't strive to achieve," Rocca said. "You just want to play well every week, but to get those accolades is great. I'll take it anytime. I think in general it's the way special teams has played. I think we've improved since last year, especially in punting. They've covering the ball really well. In general as a team, we're doing a lot better so I think it's an accolade to all of the players out there."

Rocca leads the NFL with a 44.1 net average and has had punts of 65, 64 and 61 yards. Seven of Rocca's 18 punts were inside the 20-yard line. Cornerback Sheldon Brown called him the team's most valuable player after the win over Pittsburgh. In that game, Rocca blasted a 54-yard punt that bounced out of bounds at the Steelers' 6-yard line. After flipping the field, the defense harassed quarterback Ben Roethlisberger and forced him into an intentional grounding penalty in the end zone which resulted in a safety.

"I've made special teams player of the month twice and Sav comes in his second year and makes it, that says a lot about him as an athlete, his mental capabilities and how he is totally as a professional," Akers said. "My thinking is he's going to be pretty good."

Akers should know. In his 10 years with the Eagles, Akers has worked with a number of skilled punters including 75th Anniversary Team member Sean Landeta. And Akers believes Rocca's leg can potentially be better than all of them.

"Sav, hands down, has the strongest leg," Akers said. "If he can harness that into consistent punts and the coverage units keep doing what they are doing, he has the potential to be phenomenal."