No Kevin Curtis. No Reggie Brown. No problem.
The Eagles proved once again that if one player goes down with an injury, there's another waiting in the wings that can adequately fill in.
DeSean Jackson, Hank Baskett and Greg Lewis each eclipsed the 100-yard mark while quarterback Donovan McNabb connected with seven different receivers as the Eagles pounded the Rams, 38-3, on Opening Day at Lincoln Financial Field. It was the first time a trio of Eagles receivers went over the 100-yard mark in the same game since Dec. 18, 1960.
"This is what we were talking about," Baskett said. "Everybody was talking about the No. 1 receiver and this and that, but the guys in the locker room knew. We were confident in one another, the coaches were confident in us and our quarterbacks were confident that all of us could go out on the field and make something happen."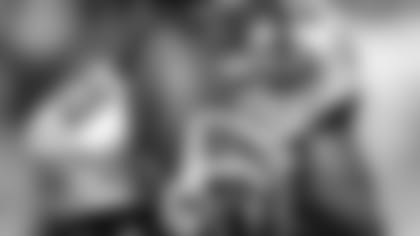 WR Greg Lewis
With exactly one minute left in the first half and the Eagles already ahead by two touchdowns, McNabb found a wide-open Baskett down the left sideline. Baskett hauled in the pass around the Eagles' 45-yard line and scampered the rest of the way for his only score of the game.

"It was just a double move, the guy bit on it and it came open," Baskett said of his 90-yard grab, the seventh-longest pass play in team history. "Donovan, that's what he does out there. His touch, his accuracy - I said that he's back to being Pro Bowl Donovan and it showed. His offseason work - the effort, the time he's put in with us, it showed right there."

McNabb wasn't the only Eagle that silenced some critics. For those that had questions as to whether or not Jackson could carry his preseason performance over to the regular season, Jackson gave an emphatic answer.

Not only did he torch the Rams' secondary for team-highs in catches (six) and yards (106), but he returned eight punts for another 97 yards, including a 60-yard third-quarter return that left the Eagles with a first-and-goal inside the Rams' 10-yard line.

"The hard work's been paying off," Jackson said. "We've been working real hard with Donovan, getting our chemistry together and getting on the same page. It's just a great opportunity for me. Two starters down, me just stepping in – I'm going to do what I need to do to help this football team. I feel very confident out there, very comfortable, and I'm just ready."

Head coach Andy Reid has noticed the chemistry that Jackson has developed with McNabb.

"He does have some confidence in him," Reid said. "However, DeSean got that (confidence) from Donovan obviously by making plays in practice. It's a compliment to DeSean."

Overall, Reid was pleased with how his receivers stepped up in the absence of the Eagles' top two starters.

"I thought, all the way around, the receivers played well," Reid said. "They were aggressive. This was a big challenge for them because (the Rams) like to bang you around.

"They came out playing a lot of man coverage against us, and when they weren't in man coverage, they played zone. They tried banging us around, and we were able to get some decent releases on them."

Avant, who tallied three catches for 45 yards against the Rams, said that he always had confidence that the remaining receivers would make up for the injured starters.

"A lot of times, you get an unfair rap based on past history and based on past personnel, but we just wanted to go out there and show everyone we could play and continue it up," Avant said. "It was just one game and the Rams are a good team, but we are looking forward to playing against Dallas."