After seven years as the Eagles' quarterbacks coach, Pat Shurmur was hired by the St. Louis Rams on Thursday to be the offensive coordinator under new head coach Steve Spagnuolo. It's a move that came as no surprise to Shurmur's former boss.
"Pat's a very good football coach and teacher," said head coach Andy Reid before this past season. "He's received a lot of attention from other teams to be a coordinator and that's going to happen for him."
Shurmur becomes the eighth former assistant coach under Reid to become a coordinator or head coach with another team joining Spagnuolo, Minnesota head coach Brad Childress, Baltimore head coach John Harbaugh, Cleveland special teams coordinator Ted Daisher, Minnesota defensive coordinator Leslie Frazier, Chicago special teams coordinator Dave Toub and San Diego defensive coordinator Ron Rivera.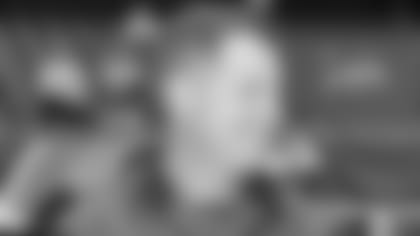 Shurmur is the eighth assistant under Reid to become a coordinator or head coach
There has been no announcement as to who will replace Shurmur.
In his role as the quarterbacks coach, the 43-year-old Shurmur has helped Donovan McNabb earn three of his five Pro Bowl berths. This past season, McNabb set the franchise record for passing yards with 3,916 and completions with 345. In 2004, McNabb established franchise records in QB rating (104.7) and completion percentage (64.0). In fact, McNabb became the first quarterback in NFL history to have a season with 30-plus touchdown passes (31) and fewer than 10 interceptions (8).
In 2002, Shurmur earned praise for his poise displayed after McNabb and Koy Detmer went down with injuries late in the season. Down to little-used A.J. Feeley, who had not started since his junior year at Oregon, the Eagles went 4-1 down the stretch. Feeley, a fifth-round draft choice in 2001, was traded to Miami in 2004 for a second-round pick in the 2005 NFL Draft.
Similarly, Shurmur withstood another McNabb injury (torn ACL) in 2006 and helped back-up Jeff Garcia step into the starting role and lead the Eagles to a 6-2 record (including playoffs). Prior to his injury, McNabb was an early-season candidate for league MVP honors, topping the NFL charts in most passing statistical categories.
Shurmur's first three seasons in Philadelphia were spent as the Eagles tight ends coach, helping develop three-time Pro Bowler Chad Lewis.
An All-Big Ten conference center and team captain at Michigan State, Shurmur joined Andy Reid's staff in Philadelphia in 1999 after an 11-year stint as a college assistant.
Shurmur spent the 1998 season at Stanford as an offensive line coach in charge of the centers and guards. Under his tutelage, the Cardinal offensive line allowed the fewest sacks per pass attempt in the PAC-10 and, in the process, helped first-year quarterback Todd Husak become the third quarterback in Stanford history to throw for over 3,000 yards in a season.
Prior to his tenure at Stanford, Shurmur spent nine seasons at Michigan State instructing the tight ends, special teams and offensive line. Under his guidance, MSU developed three tight ends that went on to the NFL: Ty Hallock, Duane Young and Mitch Lyons. In addition, Shurmur helped Derrick Mason establish a school record with 2,575 career kickoff return yards.
Shurmur himself was a four-year letter winner at Michigan State, earning All-Big Ten conference and honorable mention All-America honors in 1987. That same year, Shurmur co-captained a Spartans squad that defeated USC in the Rose Bowl. A solid student as well, he earned his MBA in financial administration. As such, the Dearborn Heights, Mich., native became the first graduate student to play at MSU.
After signing as a rookie free agent with Green Bay in 1988, Shurmur was released during training camp and subsequently began his coaching career, becoming a graduate assistant with the Spartans that fall.
A product of Divine Child High School in Dearborn, Shurmur comes from a football family. His uncle, the late Fritz Shurmur, served as the Green Bay Packers defensive coordinator from 1994-98 and helped that club win two NFC championships and one Super Bowl title. Fritz also coached with the Rams when they were based in Los Angeles.