A 31-year-old coming off a season lost to a torn and re-torn Achilles may not sound like the type of player to pin your hopes on. But this is Jason Peters. This is the best left tackle in football.
"I don't think there is a player like him in the world to be honest with you," head coach Chip Kelly said Friday. "Someone that big, that fast, that athletic. I catch myself in practice just kind of going, 'Wow.' He's 350 pounds and he runs like he is a tight end. He's an exception to every rule, so I don't think studying guys who have had Achilles injuries and saying, 'That guy would be like Jason.' He didn't have any ill effects when he was here during the spring and he hasn't shown anything, he's not getting any extra treatment or anything like that. He's been cleared 100 percent."
Peters was indeed full-go during the Eagles' first full practice of Training Camp and the five-time Pro Bowler looked every bit the part of the athletic, mauling offensive lineman that Eagles fans have come to love and opponents have come to fear.
You can feel that fear too. All you have to do is ask Peters if he'll ever be as good as he was before the Achilles injury.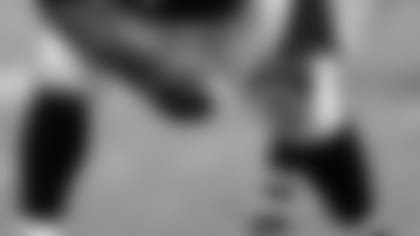 "What (do) you mean?" Peters responded when one brave soul asked if he'd ever return to Pro-Bowl form. "I am that player. I don't play any less than I played (in 2011). I'm going to go out there and give it 100 percent and let the fans and coaches vote. That's not even my goal. My goal is to get a division championship and get to the playoffs and go deep."
Peters does know that many before him have suffered the same injury and failed to come out stronger on the other side. He just approached that history and the uncertain future as if it was a linebacker in the open field on a screen pass.
"I heard that," Peters said. "That's what made me rehab so hard and work on it so much. Now I'm back to 100 percent and I'm ready to play."
Peters did admit that he felt a little rusty on day one, but only by his All-Pro standards.
"Just my footwork, to me," he said. "You might not see it, but when I watch film I critique myself pretty hard so I'm a little rusty."
Still, the beast of the offensive line has high hopes for the Eagles this season. He was asked if he expected the team to improve on its 4-12 record from last season, when, of course, Peters was on the shelf.
"I guarantee we win more than four games," he said. "That's probably the worst we could have done was win four last year. But I guarantee you we're going to win more than four this year."
"Can't say (how many). I wish all of them."
Disagree at your own peril.