Bryce Brown – As LeSean McCoy
noted during the Eagles' first minicamp, "You're going to need another back in this offense." Luckily, as the Eagles learned during McCoy's injury absence last season, the team has an impressive No. 2 running back already in place. Brown rushed for 564 yards on 115 carries (4.9 yards per carry) in his rookie season as a 21-year-old, including back-to-back games of 178 and 169 rushing yards. At 6-0, 223, Brown has the size, speed and decisive downhill running style that should make him an ideal fit for Kelly's offense, especially behind an offensive line bolstered by first-round pick Lane Johnson and the return of Jason Peters.
The one knock on Brown's impressive rookie campaign was an occasional lack of ball security. But while Brown and the coaches are no doubt working on improving Brown's ability to hold onto the football, it's likely that any serious concerns about a fumbling problem are a bit overblown. In fact, struggling with fumbles as a rookie is a fairly common problem. Last season, Brown fumbled four times in 128 touches, meaning that he fumbled, on average, once every 32 touches. The list of running backs who have had worse fumble rates as a rookie is a long one that includes, among many others, the likes of Thurman Thomas (25 touches per fumble), Gale Sayers (21.7), Walter Payton (25.4), Barry Sanders (30.4) and Wilbert Montgomery (12). More recently, Buffalo Bills running back C.J. Spiller fumbled once every 24.5 touches as a rookie. No one is suggesting that Brown is going to have the career of that group of mostly Hall of Famers (though only Sanders and Sayers had more yards per carry in their rookie season), but there is one more important thing to note about that crop of running backs plagued by rookie fumblitis. The worst single-season fumble rate for every single one of the aforementioned running backs came in that rookie season. Add on that last year was Brown's first real full season of football since high school and here's hoping that the worst of his ball security issues are behind him.
Rookie Fumblers
Player
Off. Touches
Fumbles
Touches Per Fumble
Bryce Brown* *
128
4
32.0
Wilbert Montgomery
48
4
12.0
Walter Payton
229
9
25.4
Barry Sanders
304
10
30.4
Gale Sayers
195
9
21.7
C.J. Spiller
98
5
24.5
Thurman Thomas
225
9
25.0
*Lowest career fumble rate came in rookie season
Miguel Maysonet – While competition is and will always be the focus under Kelly, Brown and McCoy won't be going anywhere for the foreseeable future. It would seem, then, that Maysonet is competing alongside fellow undrafted rookie Matthew Tucker to unseat Chris Polk, himself an undrafted rookie free agent last season, as the team's No. 3 running back. But that may be looking at the roster through a prism based on the last 14 years of Andy Reid's roster construction. If, as McCoy has hinted, the Eagles will rely heavily on the legs of their running backs, it's certainly possible that the team could carry four running backs on the active roster. Actually, in an outlier in Reid's roster history, the Eagles kept four running backs on the roster just last season. Take injuries into account and there will always be opportunities for running backs in the NFL. Last season, for instance, 19 of the 32 teams in the NFL had at least four running backs register a carry. So at the very least, Maysonet and Tucker could be competing for a spot on the practice squad come the regular season.
Either way, as with everyone else on the roster, Maysonet will get plenty of reps throughout the offseason to do his part in impressing the coaches. The two-time Big South Offensive Player of the Year, Maysonet, 5-10, 210, earned FCS All-American honors as a senior when he rushed for an astounding 1,964 yards in 13 games, the 11th-highest single season total in FCS history. How he fits in Kelly's offense and whether he can handle the jump in level of play is to be determined.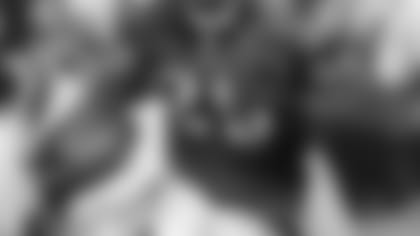 LeSean McCoy – Though he may not have the fastest 40-yard dash time in the Eagles backfield, McCoy still projects as the key to the Eagles offensive machine. Since there's not much you don't already know about Shady, let's try to put his first four seasons in historical context. In his career, McCoy has rushed for 3,866 yards on an average of 4.63 yards per carry while also accumulating 1,588 receiving yards. In the history of the NFL, only four other players have had as many as 3,500 rushing yards and 1,500 receiving yards in their first four seasons while maintaining better than 4.5 yards per carry: Maurice Jones-Drew, Ray Rice, Thurman Thomas and William Andrews. Only Jones-Drew's 4.66 yards per carry from 2006-2009 tops McCoy's career average to date.
Chris Polk – The frontrunner for the No. 3 running back job, Polk is coming off a frustrating season in which he played seven games on special teams before suffering a foot injury that would eventually end his season. The only time Polk touched the ball in the regular season last year came on a kickoff return at the end of a half in which he took a knee, so it wasn't exactly the most prolific start for the former Washington standout. But Polk is now healthy and ready to contribute, especially with Dion Lewis traded away. McCoy also mentioned Polk following the first minicamp as a player to watch moving forward.
Meanwhile, with all the attention paid during last week's NFL Draft to former college opponents of Kelly's joining the Eagles, it's worth mentioning Polk's connection to Kelly and Oregon. A highly ranked recruit out of high school (No. 9 among running backs, according to Scout.com), Polk actually took an official visit to Oregon (where Kelly was the offensive coordinator at the time) and was offered a scholarship before he chose to attend Washington. Then, Polk enrolled early at Washington to get a head start on playing time, which he earned as a true freshman. Polk's very first college football game then came in the 2008 season opener against none other than Oregon. Polk rushed for only 19 yards on 14 carries and he would suffer a season-ending injury shortly thereafter. During his Washington career, Polk became the school's second-leading career rusher while earning All-Pac 12 honors, though that led to him becoming the focus of the Oregon defense. In four career games against Kelly and Oregon, all lopsided losses, Polk ran for only 3.8 yards per carry – well below his career mark of 5.1.
Matthew Tucker – Tucker finds himself in the same situation on the roster as outlined for Maysonet above, but he does seem to have one thing working in his favor. At 6-1, 227, Tucker is the biggest of the five running backs on the roster. Now, Tucker is no plodder and he's only one inch taller and four pounds heavier than Brown, but in a situation where he will need to stand out from the crowd, Tucker's size could play a factor. To that end, Tucker was a successful red-zone runner in college, racking up 33 rushing touchdowns, the third-highest total in TCU history, despite only ranking as the 10th-leading rusher in school history. Vis-à-vis Maysonet, Tucker is a year younger and has less proverbial tread on his rushing tires.