When Buddy Ryan drafted Keith Byars in 1986, he labeled him "a franchise back." It was easy to understand since Byars set the Ohio State single-season record for rushing yards (1,764) and touchdowns (22).
"He's one of the best college backs I've ever seen," Ryan said after selecting Byars in the first round. "The game that always stands out is the one against Illinois when he beat them all by himself. He ran kickoffs back, he caught passes, he ran over people. He was unbelievable, God almighty."
Byars was runner-up to Boston College quarterback Doug Flutie for the Heisman Trophy in 1984 but in his senior year, he broke a bone in his foot and that changed the arc of his career. He suffered a broken metatarsal bone in each of his first two seasons with the Eagles and it caused the coaches to reevaluate his role. Maybe he wasn't going to be the workhorse power runner they expected.
However, they noticed Byars was surprisingly fluid catching the football. He had soft hands, ran nice patterns, and demonstrated a good understanding of the passing game. It wasn't all that surprising considering he was a tight end his first two years at Roth High School in Dayton, Ohio before moving to tailback.
This started the Eagles' coaches thinking: Why keep running Byars up the middle when they can split him wide, throw him the ball, and use his 6-1, 240-pound muscle to trample people in the open field? So they tried it and found that it worked and in a 13-year career, Byars evolved into one of the most versatile – and valuable – players in the NFL.
On September 30, 1990, Byars had a career-high 12 receptions in a game against Indianapolis at Veterans Stadium. At the time, it was the most receptions in a single game by an Eagles running back. Brian Westbrook finally topped it with 14 catches against Dallas on November 4, 2007, but it indicates as a player, Byars really was ahead of his time.
At various times, he lined up at five different positions – tailback, fullback, tight end, slot receiver, and wide receiver. He moved around the various formations like an oversized pea in a carnival shell game. Around and around he goes and where he stops, well, that's for the defense to figure out.
Consider this: From 1988 to 1990, Byars caught 221 passes. Only four players in the entire league, all wide receivers, caught more. He had 81 receptions in 1990 which tied the club record at the time. He spent seven seasons with the Eagles (1986-92) and he ranks higher among the all-time receivers (sixth, 371 catches) than the all-time rushers (13, with 2,672 yards). He had more 100-yard receiving games (6) than rushing games (2).
"I've given up trying to explain my role," Byars said. "People ask what position I play; I say 'Offense.'"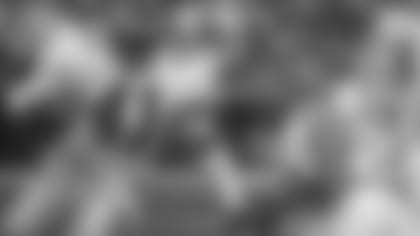 In 1998, his final NFL season playing for the New York Jets, Byars surpassed Hall of Famer Marcus Allen to become the all-time leading receiver among running backs. He finished his career with 610 receptions (he still ranks fourth for running backs) for 5,661 yards and 31 touchdowns. He had 3,109 yards rushing with 23 touchdowns. Toss in his six passing touchdowns – remember that left-handed halfback option pass – and that's 60 total touchdowns.
"Keith Byars knows how to play the game," said Bill Parcells, the Hall of Fame coach. "When I was coaching the Giants and he was playing for the Eagles, he gave us headaches because he always seemed to make plays in big situations. There would be a big third down and he'd take a little flare pass, break a tackle, and pick up the first down, stuff like that. Guys like that win games for you."
Parcells liked Byars enough that he brought him to New England in 1996 (where he played in a Super Bowl) and then brought him to the Jets in 1998.
"I learned over time that pro football isn't about labels," Byars said. "The fans and media wanted to define what I was. Was I a running back like Earl Campbell? Was I like Walter Payton? It was frustrating for me because people looked at the (rushing) numbers and said, 'Where's the thousand yards?' It was like I was this big disappointment.
"I talked to Buddy about it. I said, 'Give me the ball enough times, I'll show them.' But Buddy said, 'Don't worry about that. We know what you can do. You'll get your opportunity.' He was right. I learned never to second-guess anything Buddy said. I believed in him."
Byars said the way he was utilized, playing multiple roles, actually proved helpful.
"It made me a better player," he said, "because I had to learn the whole offense. I know everyone's role, not just one role. When I run a pattern, I know my route plus the route of every other receiver. I can visualize the whole pattern in my mind. I see the whole picture so I know how to adjust. It all fits together."
Byars was part of the exodus that followed the 1992 season when many veterans, including Reggie White, Seth Joyner, and Clyde Simmons left the Eagles unhappy with the club's direction under owner Norman Braman. Byars signed with Miami joining ex-Eagles Keith Jackson, Mike Golic, and Ron Heller. He played four seasons as a Dolphin.
"It's tough leaving, I love Philadelphia," Byars said, "but one thing I learned in my seven years here and I learned it from Mr. Braman himself is this is a business. He does what he thinks is best for the football team so I'm doing what's best for myself."
An award-winning writer and producer, Ray Didinger was inducted into the Pro Football Hall of Fame in 1995. He has also won six Emmy Awards for his work as a writer and producer at NFL Films. The five-time Pennsylvania Sportswriter of the Year is a writer and analyst for NBC Sports Philadelphia. Didinger will provide Eagles fans a unique historical perspective on the team throughout the year for PhiladelphiaEagles.com. You can read all of his Eagles History columns here. He is also the author ofThe Eagles Encyclopedia: Champions Edition which is in bookstores now.