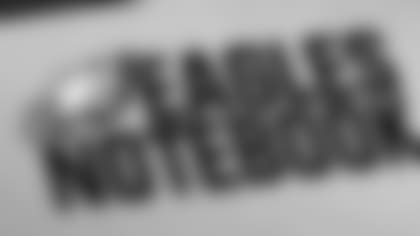 K.C. and the Sunshine Band...WR Kevin Curtis led the team with 122 receiving yards on 4 catches. It was his third 100-yard performance in five career postseason games and his 122 yards tied a team postseason record among wide receivers (TE Keith Jackson – 142 yards on 12/31/88 at Chicago; Terrell Owens – 122 yards on 2/6/05 vs. New England).
Magnum TE...TE Brent Celek set a team playoff record with 10 catches, adding 83 yards and two touchdowns. He eclipsed the previous record of 9 catches set by Terrell Owens (2/6/05 vs. New England) and Keith Byars (12/31/89 vs. LA Rams and 12/31/88 at Chicago) ... Celek also tied a team record with two touchdown receptions in the playoff game (Chad Lewis, Fred Barnett and Harold Carmichael each have a two-touchdown game in the postseason). Celek had three touchdowns in the last two games.
Five Alive...QB Donovan McNabb threw for a postseason career-high 375 yards, adding 3 touchdowns and a 97.4 passer rating. He now has 3,522 passing yards in his postseason career and 23 touchdowns. He moved past Steve Young (3,326) and into 10th place in NFL postseason history in terms of yards and his 23 career postseason touchdown passes are tied for 8th with Troy Aikman.
Green Akers...K David Akers ended his streak of 19 consecutive field goals made in the postseason, an NFL record. Prior to Sunday, his last miss occured on 1/11/04 vs. Green Bay. With 30 career postseason field goals, Akers trails Adam Vinatieri (42) and Gary Anderson (32) for the NFL's postseason record.
Offensive Quick Hits...McNabb's 21-yard run in the first quarter was his longest of the season ... WR DeSean Jackson's 62-yard touchdown was his first postseason touchdown and the longest play of his career.
Defensive Nuggets...After surrendering 24 points and 260 yards in the first half, the Eagles defense held the Cardinals to just 8 points and 109 yards in the second half ... DE Trent Cole registered his first sack of this postseason ... DE Victor Abiamiri notched his first career postseason sack.
Birdseed...RT Jon Runyan played in his 21st career postseason game, tying Craig Hentrich and Larry Izzo for the fourth-most among active players. He trails Adam Vinatieri (23), Brett Favre (22) and Tedy Bruschi (22). Photo Gallery : PHI vs. ARZ 1-18-09