It's often said in the NFL that a player's biggest improvement takes place between his rookie season and his second year in the league. Armed with the first-hand experience of year one and the knowledge of what it takes to succeed on gameday, coupled with a full offseason to train in a team's conditioning program, second-year players are expected to grow quickly from rookies to veterans. But rarely does that second-year jump include transitioning to a new coaching staff and, in the case of Vinny Curry, to a new position.
The second of two second-round picks for the Eagles in last year's NFL Draft, Curry fought through a frustrating rookie season during which he was inactive through the first 10 games. Curry earned playing time in the final six games, recording nine tackles while playing on a limited, rotational basis as a 4-3 defensive end. But now, with a new defense installed in Philadelphia, Curry has been learning a slightly new position.
"I'm working at 3-4 end," Curry told PhiladelphiaEagles.com. "They have a few little razzle-dazzle things for me, just to put me in a position to make plays, use my pass-rushing skills in this defense. We have to crawl before we walk and right now we're just in the beginning stages of things."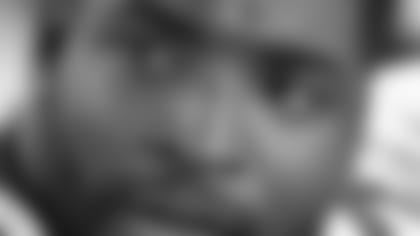 Curry's situation is not entirely unfamiliar. In fact, Curry is helped along in his transition by a familiar face. Defensive line coach Jerry Azzinaro was Curry's position coach in 2008, Curry's freshman season at Marshall. While Azzinaro is the one working hands-on with Curry, inside linebackers coach Rick Minter is another familiar face for Curry dating back to his years in college, as is offensive quality control coach Press Taylor.
"I'm really enjoying myself," said Curry. I'm "back working with coach (Azzinaro), back working with coach (Minter). These guys were real huge stepping stones in my career and for them to be back in my life and back in my career, it makes you want to work even harder because they know what they can get out of you."
As part of his transition to the new role, Curry said that he's gained about 20 pounds of muscle so far this offseason, going from 260 to 280.
"Coming in, I just wanted to train really hard this offseason, really dedicate myself," he said. "I didn't go on any vacations or anything. (I) really changed my diet and dedicated this offseason to trying to come back and earn my mark on the league."
Clearly, Curry's goals far exceed the slow start of his rookie year.
"The whole season was definitely, for me, was motivation," Curry said. "But you can't dwell on the past. It is what is. I'm just looking to move forward, fresh start and you know just getting to play on the field and getting back to what I love to do and what I was drafted here to do and that's to play football and make plays.
"That was a little bump in the road. We got over it. It's a new year, a new start, let's move on from there."