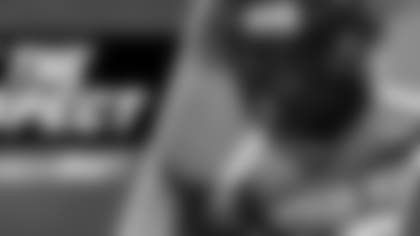 We are just 28 days away from the start of the 2015 NFL Draft. Our Meet the Prospect feature will introduce fans to the players projected to be this year's top selections. How will we select the players to spotlight? Easy. You, the fans, get to decide. Who did you pick for today's profile?
Ask most evaluators and they'll tell you that safety is the most difficult position to project to the next level. That's borne out with the relative lack of quality safety play in the NFL, and most people will tell you the incoming class of safeties is considered relatively weak. According to some, in fact, the class is broken down into two groups – Landon Collins and everybody else.
But that is not to disparage the "everybody else," rather to say that for many the group behind Collins is largely indistinguishable from each other. Some people believe Arizona State's Damarious Randall is the second-best safety in the class while other project players like Utah's Eric Rowe, Miami (Ohio)'s Quinten Rollins or Washington's Shaq Thompson to the position in lieu of a ready-made prospect.
One of the players jumbled into that second group of safeties is Samford's Jaquiski Tartt, who presents his own blend of relative projection and upside. At 6-1, 221 pounds, Tartt certainly looks the part of an NFL safety and with a 4.53-second 40-yard dash and 124-inch broad jump (both top five among safeties at the NFL Scouting Combine), he seems to have the requisite athleticism to succeed at the next level. But how did a player with his size and speed combination end up at Samford?
For Tartt, the answer is easy – he was a basketball player. A standout guard in high school in Mobile, Alabama, Tartt only decided to play football his senior season, so he was an under-the-radar recruit. After choosing to stick to football, Tartt ended up starting his final three seasons at Samford, earning FCS All-America honors all three years.
Considered by some to be a "box safety," Tartt's greatest strengths line up with what are typically considered strong safety attributes. He does well against the run and is a punishing tackler in the open field. As such, his abilities as a single-high safety in pass coverage can leave something to be desired, though he's no slouch.
Though Tartt does not necessarily possess the all-around versatility the Eagles covet at the moment, the team may believe he can grow into some of those abilities. With his combination of size, athleticism and willingness to tackle, Tartt is likely to be picked somewhere between the second and fourth rounds.
Well-built with impressive overall size. Gets downhill quickly from high safety to mix it up in run support. Takes good angles to ball carriers and is an aggressive tackler. Willing to play through pain and compete. Fierce competitor. Plays with confident, clear eyes to diagnose and handle his responsibilities. Attacks the ball at point of catch to disrupt wide receiver and dislodge the pass. -- Lance Zierlein