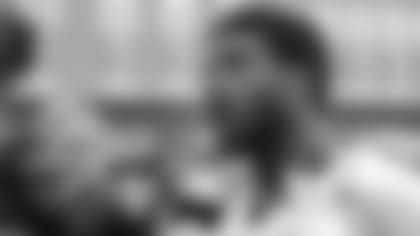 Byron Maxwell created plenty of headlines last week when he "guaranteed" that the Eagles would make the Super Bowl this year.
"I heard about the Philadelphia media and what comes along with it," Maxwell said Tuesday when asked about the response to his comments to The MMQB. "So I was a little surprised, but then again, I kind of expected it."
Maxwell managed to throw cold water (there was plenty of it to go around on the practice field Tuesday) on the "guarantee" without backing down from his confidence.
"It really wasn't a prediction," Maxwell said. "I more saw it as confidence in my teammates and what we can do, what I think we should do. And I think every team has that goal when they start the season."
Having played in consecutive Super Bowls with the Seattle Seahawks, Maxwell is at least an informed party in what it takes to get to the big stage.
"I do (see similarities between here and Seattle)," he said. "We definitely have a winning culture here, just the things we do and the belief system we have. So yeah, I do see it."
Then again, perhaps the show of bravado is just his old Seahawk coming out.
"Maybe it is a little bit of Seattle," he said with a smile. Pete Carroll has a way of brainwashing you, so maybe it is a little bit of Seattle."