For rookies, every day brings a new experience. From your first meeting to your first practice to your first game, there's always an NFL experience you've yet to encounter. For first-round pick Lane Johnson, though, Tuesday's new experience stretched beyond the world of football. On Saturday, Johnson became a father for the first time as his wife Chelsea gave birth to their son David Jace Johnson.
Tuesday, then, marked Johnson's first practice as a father.
"When the baby came out, you kind of have a little shock factor there for a little bit, so I'm still trying to get adjusted to that and fatherhood," Johnson said, fresh off his first night of sleep after he arrived back in Philadelphia Monday afternoon. "My wife and kid are coming out here in about a week. (I'm) looking forward to it."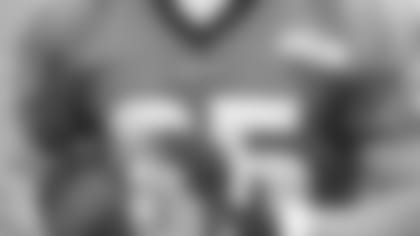 On the field, Johnson has already made an impact. He was mentioned by head coach Chip Kelly as having a standout game in the preseason opener against the New England Patriots. Kelly called Johnson perhaps the line's "most consistent player" throughout the game.
"I graded out pretty well, but my deal is that game's over with," said Johnson. "You got to move on to the next game because if you get too happy about the next game that you just played, you go into the next game and get rocked."
Johnson, by his own admission, does still have plenty to work on. For one, there's perfecting his balance.
"Especially at tackle, you're on an island, you don't want to be leaning and be out of balance," said Johnson, "because when that happens they'll beat you with the inside move or beat you around. Playing tackle is all about balance."
Johnson mentioned that he's looking forward to Thursday night's game against the Carolina Panthers especially because he'll get a chance to face off with former Oklahoma teammate Frank Alexander. Johnson won't be joined on the offensive line by left tackle Jason Peters though, as the All-Pro is very close to returning from a hamstring injury. Still, Peters has made his impression on the rookie.
"I feel like it's a brotherhood," Johnson said of the offensive line. "My deal coming in, I wanted to be like a sponge. I'm trying to learn as much as I can. I have one of the best, possibly, players ever at left tackle over there so I'm just trying to learn as much as I can and gain experience with each game, which will make me better."
The other area of Johnson's game that the rookie is hoping to improve is hand technique.
"Just probably technique-wise, with my hands, my biggest concern is getting my hands on the guy," said Johnson. "So, not leaning forward, staying patient in my set. My big deal heading into the first game was to have good sets and be good with my hands."
If it's impressive hands that Johnson covets, the hope for Eagles fans then is that, in this case, the tree takes after the apple. Johnson created a bit of buzz on Twitter when he tweeted a picture of his three-day-old son's "Big ol' hands."
"When he came out, I thought his hands were as big as mine," said Johnson. "I mean, they were huge. Because my wife, she's 5-11, my father-in-law's 6-6, my dad's 6-6, so there's no telling how big he's going to be when he gets growing. But yeah, he has huge hands."
But will Johnson teach David Jace the game of football as a former quarterback or offensive lineman?
"I don't know," said Johnson. "He may be playing basketball. There's no telling."