In Philadelphia, hating the Dallas Cowboys is a birthright, not a choice. That franchise literally built a hole in the roof of their stadium so "God can watch his favorite team."
Well, get ready because the Eagles have a hard-charging anthem ready to "rip the roof off this party" and anything else standing in their way. Lincoln Financial Field is the setting for Sunday Night Football on October 16. It marks the first meeting between the Eagles and Cowboys of the 2022 season. And, as the fierce NFC East rivalry enters its 62nd year, one phrase has always guided the conversation: "Let's Go."
Fittingly, Jimmie Allen has grabbed the phrase and supplied everyone with a hype song on the Eagles Gameday Poster Playlist presented by Pepsi for Week 6. Allen – the Grammy-nominated country music star from Delaware – was asked to provide a soundtrack for the Cowboys game, thanks to a nudge from his good friend Lane Johnson and a mutual acquaintance.
When the phone call reached his ears, the answer was easy: "Oh dude, yes, I'm in."
Allen had been sitting on the song, unrecorded yet written, just waiting for the right opportunity to unleash it on the world. This was it. This was his football banger.
"You know people when they play sports, they're always like, 'Let's go! Let's go,' but nobody had a song about it," Allen said. "So me and my buddies are like let's write this song. It's pretty much a football hype song, like we're about to turn this field into a party, all that stuff."
"Let's Go" starts off with a thundering bass beat and screeching electric guitar riff, unapologetically loud, ideally suited to kick off a football broadcast. It pays homage to old-school country – perhaps a slight ode to Albert Lee's "Country Boy" – mixed in perfect harmony with rock 'n roll and pop vibes.
One lyric seemingly gives props to Chuck Bednarik's game-saving tackle against the Packers in the 1960 Championship Game. A sampling from Allen's anthem:
We ain't gonna stop 'til the clock runs out
Living on the edge is what it's all about
We gon' start a fire just watch it burn
And nights like this make the world turn
That party will reach a fever pitch at halftime when Allen takes centerstage for a special performance in what is sure to be an electric atmosphere. He's never performed at Lincoln Financial Field despite all his charted success: three studio albums, multiple country music awards, RIAA Platinum and Gold certifications, plus a surreal co-hosting gig alongside Dolly Parton at this year's Academy of Country Music Awards.
He's the real deal. Don't blink or you might miss him on Sunday Night Football. You see, Allen has a plan in place to ensure he doesn't miss the second half.
"Man, I'm super excited," Allen said. "I'm looking forward to just feeling the energy from Eagles fans. I'm looking forward to performing at halftime really, really fast and getting back to the game."
There's another reason Allen might be in a hurry. The Eagles-Cowboys game will be his last time to relax before he hits the road with Carrie Underwood on the Denim & Rhinestones Tour, with 43 dates nationwide. Allen just put out his third studio album entitled "Tulip Drive" back in June. He's an insanely busy man.
"I'm trying to do what I love and keep things moving," Allen said.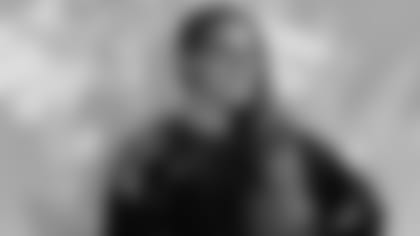 SAVE A HORSE, RIDE ON MAJESTIC EAGLES WINGS
The poster for the Eagles-Cowboys game was created by Rachel Perciphone, a local artist and professional illustrator who prides herself on empowering viewers through fantasy art. The Haddonfield, New Jersey resident has a dedicated studio space in her home. She also travels around the country to sell her prints, which is how she wandered onto the Eagles' radar.
Perciphone received a call "out of the blue" from the organization with an offer to create something memorable for the Cowboys game. Someone had seen her artwork out on the road. Needless to say, she was honored – and floored.
"I didn't know if it was real or if somebody was messing with me," Perciphone said. "It was mind-blowing to me as a sports fan."
Originally from Windsor, New York – a small town on the Susquehanna River, near Binghamton – Perciphone moved to the Philadelphia area in 2010 to attend Moore College of Art & Design, where she received a Bachelor of Fine Arts in 2014. Eight years in, she is still doing what she always loved to do.
"I was always drawing growing up. My parents said I had an aptitude for it," Perciphone said. "It was never something I thought about, I just did it. I think I was inspired by the books I read and being fascinated with mythology and folklore."
Perciphone's passion for fairy tales intertwines with a sort of "Looney Tunes playfulness" in the poster she created for Week 6. In it, a majestic green eagle swoops down into the Linc to carry a mustachioed cartoon Cowboy away. His trusted horse looks up with a bewildered stare, ready to utter an inaudible neigh.
"The eagle is overtaking the opponent and flying off to victory," Perciphone said. "I want Philadelphia and the fan base to feel proud of their team. And to feel victorious, in the good and the bad times. I hope it brings that high energy and excitement to the illustration."
This marks Perciphone's first time working on a project of this magnitude, something she hopes may lead to more calls from professional sports teams and leagues. She expressed a deep appreciation to the Eagles for reaching out and credited them for shining a spotlight on local artists.
"I don't think you can get much bigger than the NFL. I'm super grateful to the Eagles. It's an opportunity to give back to the city," Perciphone said. "It's been a nice collaboration. I don't know if anyone else is doing this. I haven't seen it."
EAGLES MEMORIES: CROWDED PATCO TRAINS, PASSIONATE FANS
Allen – a rising star, fresh off a County Music Association Award for New Artist of the Year – is no different from the rest of the rowdies wearing midnight green every Sunday. He yells at the top of his lungs when he disagrees with a call. And he friggin' hates the Dallas Cowboys.
Which is funny because Allen caught some heat in 2021 when he was spotted on a fishing trip with rival quarterback Dak Prescott. He set the record straight at the time, expressing how much he despises the team that wears the Blue Star on their helmets.
Allen couldn't pinpoint one favorite Eagles moment from his internal highlight reel. He revealed that Andy Reid is his favorite coach, then rattled off a slew of players, including his buddies Fletcher Cox and Lane Johnson (yes, they hang out). His favorite play? That 88-yard bomb from Michael Vick to DeSean Jackson on Monday Night Football in 2010. And if they ever wanted to cast Allen in a football movie about the Eagles, count him in.
"I would love to play Michael Vick or DeSean Jackson," Allen said. "By the time Jalen Hurts does a movie, I'll be old. I'll have my son play Jalen Hurts."
Allen's loyalty to the Birds knows no bounds. He wouldn't trade it for anything. Let the national media keep misrepresenting the best fan base in the country.
"We're just passionate, that's all it is," Allen said. "It just comes down to passion. It's pretty simple. People can have their opinions, it's just passion."
Meanwhile, Perciphone had a specific memory ready to share. She remembers watching people flood the PATCO Station near her Haddonfield home the night the Eagles won the Super Bowl. As that was happening outside her window, a local news station was interviewing a 90-year-old man who had waited his whole life to witness a Super Bowl victory. Full circle.
"I remember just seeing everybody flooding the train station trying to get into Philadelphia to celebrate," Perciphone said. "A favorite thing I like to say is, the Patriots couldn't stop the Eagles from winning the Super Bowl and no one could stop Eagles fans from celebrating it. They were climbing poles even though the city had sprayed them down before the game."
Again, it comes down to passion. That's all it is. When asked for a final message to send to Eagles fans, Allen laughed and shouted: "Go Birds!"