Some people are Eagles fans. Others are die-hards. And some, like season ticket holder Jim Davis, are downright fanatical.
Many fans in Section 209 at Lincoln Financial Field probably don't know who Davis is, but they are certainly familiar with his alter ego: "Eagle Man."
Davis, er, "Eagle Man" hasn't missed an Eagles home game since acquiring season tickets in 1989 and he's known for wearing a green cape with hats of the opposing teams the Eagles have defeated stapled to it like pelts from a good day's hunt.
But when Davis first started coming down to Veterans Stadium, he came as Jim Davis. The cape didn't come until 1990, the pelts didn't start until 1991 and "Eagle Man" wasn't born until shortly thereafter.
"We were playing the Vikings on Monday Night Football in 1990," Davis recalled. "We held our own in the first quarter. The second and third quarters ... not so much."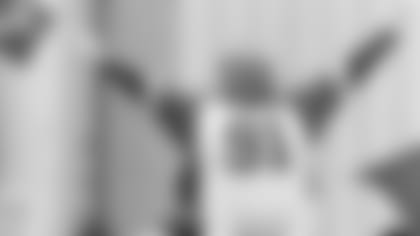 Jim Davis a.k.a. Eagle Man, can be seen running up and down the steps of Sec. 209
Davis said that halfway through the third quarter, as the Vikings' lead mounted, a season ticket holder a section over yelled that he had had enough, tore his jersey straight down the middle and slammed it down before storming off in disgust.
The Eagles scored 17 unanswered points in the fourth quarter for a come-from-behind 32-24 win. Davis was one step closer to becoming "Eagle Man."
"Me being the guy I am, I went over and picked up the jersey," Davis said. "The next week I came to the game wearing the jersey. If you can't give your brother a hard time, what's the sense of going to the game? After that I threw the jersey in the back of my car and I didn't think much about it."
A little over a year later, Davis, with face painted and hair green, was in his seat as usual for another memorable Monday night game, this time against the New York Giants.
One New York fan had his Giants hat removed and while it was being tossed around the section, it got ripped. The fan yelled several choice words before leaving the Vet hatless, as the Eagles went on to crush the Giants, 30-7.
"He left it and I picked it up," Davis said. "That was the first pelt. It was soon after that I decided I can hang that off the cape. Thus 'Eagle Man' was born."
For the next 15-plus seasons, "Eagle Man" has run down the steps from his seat to the first row of the section to lead "his people" in an "E-A-G-L-E-S, Eagles!" chant. But one of his proudest moments was when he led almost the entire Vet in the same chant from down on the field.
In a home game against Dallas in 2000, Davis was selected to participate in Sovereign Bank's "Pass for Cash Challenge," where a contestant throws a football through a hole for the chance to win $1,000.
Davis missed on almost every practice throw, but after getting a little coaching, Davis began consistently zipping the ball through the hole. But that didn't make him any less nervous when it came time for his one throw.
"In my head, I'm thinking half the stadium knows who I am. I can't exactly blend in with the crowd," Davis said. "I took the cape off and draped it on the field, then I threw it right through. I wound up doing an Eagles cheer from the field with half the stadium doing the cheer with me. It was crazy, the most unbelievable thing that had happened to me."
Since then, though, Davis has slowly been regaining control over "Eagle Man." Now Davis is 43, the father of two beautiful daughters (Violet Marie and Nora Grace), and those stairs at Lincoln Financial Field are getting harder to run, especially in his green Chuck Taylors.
Davis only turned into his alter ego on select occasions this past season. Now, he's resting up for another run as "Eagle Man" in 2009.
"It's not retired," Davis said. "It's on hiatus."