Unlike most defenders trying to tackle him, hype has a nasty habit of clinging onto DeSean Jackson. And also unlike them, he can't juke himself away from it.
As much as fans and media have been advised to not pile the pressure onto Jackson's fledgling shoulders, a short list of ingredients to the perfect storm has not only made the attention exciting or interesting, but warranted.
First: the speed. As advertised. Second: the statistics. Bigger than expected. Finally: the injuries. Not anticipated.
Jackson's preseason performance and the injuries to leading receivers Kevin Curtis and Reggie Brown should have the rookie - once not even present on the team's first- through third-string depth chart - starting in Sunday's opener against the Rams, or, at the very least, seeing significant reps from the Z-receiver spot.
Here's the catch: St. Louis had the opportunity so few defenders have ever had against Jackson. In April, as Jackson sat basically like a dead duck waiting to be grabbed, the Rams chose to use their second-round pick on the NFL Draft's first wide receiver – Donnie Avery from Houston.
Now, according to several media reports, St. Louis has been using a decoy on its scout team to represent Jackson and his versatility. Jackson smiled.
"It's one of those teams that I feel like kind of told me that they wanted me and all this stuff. But with being young and knowing how the process goes, I kind of understand now," Jackson said. "But I definitely have that in the back of my mind."
Jackson said he and Avery had a friendly competition at the Scouting Combine in the 40-yard dash. So, who won?
"Come on, now," Jackson said, citing his 4.31 time. Avery clocked in at 4.34.
So the surplus coverage isn't defiantly going against the warnings of Donovan McNabb or Andy Reid, exactly. It's profiling a receiver that refuses to fall out of the spotlight. This is a guy tutored by Jerry Rice; he's the legend's prized pupil, even.
"I hear things like that. It's motivation to want to go out there and prove to all these guys that I'm capable of getting the job done," Jackson said. "When I hear it, I just know I've got some things to be done."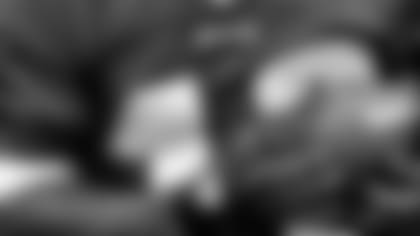 WR DeSean Jackson
Obviously, McNabb's concerns with Jackson's age and inexperience are valid. As he said, he's seen enough top-pick receivers (Todd Pinkston and Freddie Mitchell, McNabb mentioned by name) come through town and leave in considerably less than a blaze of glory.

But even McNabb acknowledged that Jackson has been getting the ball in the preseason more than others have in the past, and he's been performing well with all three strings and special teams. He led the NFL with 125 punt return yards (including a touchdown) during the preseason, was second with 16 catches, and his 189 receiving yards were good for fifth.

So McNabb, understandably, is cautious.

"Anytime that we draft a receiver here, since I've been here, everyone expects him to be a world-beater, which puts so much pressure on his shoulders and when things don't work out all of the sudden people look at him as being a bust," McNabb said. "You want to try to avoid that as much as possible. You want to be able to put him in positions to make plays and be successful, let alone make sure all the rest of the guys can do that same thing as well."

Curtis' sports hernia should keep him out a few more weeks, at least, while Brown has been trying to get back on the field after battling a hamstring strain in preseason. Brown did not practice Thursday.

So both Reid and offensive coordinator Marty Morhinweg said Jackson will be thrown right into the fire against St. Louis' aggressive corners. And should Jackson's preseason success carry over, chances are the Rams will be asking questions, too.

He's just a rookie? And we passed on him?

"I understand why they say the things they say," Jackson said. "They want me to stay humble. They want me to keep putting in the hard work. They've been here for several years, so I've got to do a lot of hard work to catch up to where they've been. I know what I have to do. I have to go out there and handle my job, go out there and work hard."