PITTSBURGH -- He lined up on the right side, moved in motion to the backfield. The ball was snapped. Quarterback Donovan McNabb handed the ball off to Correll Buckhalter who plunged ahead while McNabb faked the reverse to ... who else?
Wide reciever DeSean Jackson. And you thought the offense would be vanilla in the preseason?
On his first play of his first preseason game, the Eagles' highly-touted second-round draft pick already provided a glimpse of the headaches he is going to cause for opposing defenses. After a grueling three weeks at Lehigh University where Jackson was heavily integrated into the offense, the anticipation to see what Jackson could do on the field in a live game situation reached a fever pitch.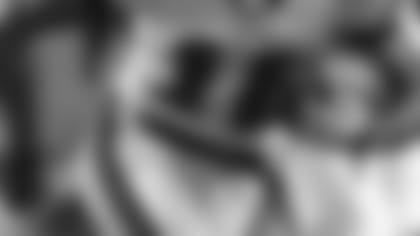 WR DeSean Jackson
Jackson certainly did not disappoint. And he wasn't just a decoy. He caught a game-high five passes for 51 yards in Friday night's preseason opener against the Pittsburgh Steelers.

"It was sweet for me. It was a great opportunity for me to go out there and work with Donovan and just get out there with the rest of the guys and have some fun," said Jackson who did not start, but worked in with the first-team offense. "It was awesome, just the environment. It's a big opportunity for me to come to the NFL and play with a great team like this."

While Jackson is far from being the biggest player on the field, his blazing speed and razor sharp route running ability help him survive where most athletes his size would not be able to. But Jackson didn't play the role of track star on the field Friday night. The Eagles wanted to see how he could work underneath and over the middle and how he would respond to playing in traffic where the action is much more physical.

"It felt good. It's football," said Jackson. "Let's go out there and play. It's nothing different.""

What was different was the ability of Jackson's opponents to leave him as little space as possible. A dynamic returner at Cal, Jackson is being counted on at the very least to inject a jolt of high-octane speed into the punt return game. It was evident that Jackson wanted to take one to the house, but he was held in check with three yards on three returns. One of those returns netted an 8-yard loss when he tried to run back to create more room to run.

"You want to take it to the house and you want to score," said Jackson. "Every time I have the ball in my hands, that's what I'm thinking.

"The looks were awesome. The biggest thing right now is experience. The more experience I get, the more comfortable I'm going to be and the better I'm going to do."

Even though Jackson didn't deliver the home run, his teammates were excited about what they saw in his debut.

"I told him when he first got here that he has Pro Bowl potential," said fellow receiver Jason Avant. "I just want him to get in the playbook and continue to learn it. The sky is the limit for his talent. I was so excited to see him do well and I've been telling people we have a football player on our hands."