Just four games into the 2008 season, it's pretty obvious that Jason Campbell has begun to settle in.
With a 3-1 record, including an impressive win at Dallas, the Redskins' quarterback has his team rolling. He's completed nearly 66 percent of his passes, he's thrown six touchdowns and he's only been sacked seven times. But most importantly, the fourth year signal-caller has yet to turn the ball over.
Perhaps his stability in the pocket is a result of his confidence in the stability of his coaching staff – though he's playing under his second head coach and third offensive coordinator in four years, the light bulb has turned on.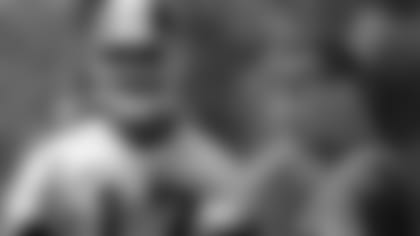 Zorn's experience as an NFL quarterback has helped Campbell's development
Jim Zorn was hired to be that third offensive coordinator in late January, until team owner Daniel Snyder increased his responsibilities to head coach about two weeks later, in a John Roberts-to-Chief Justice move in the nation's capital.

It's Zorn who's the main line of communication for his young quarterback, streamlining the transition to his West Coast offensive attack.

"It was a relief. We knew there was going to be one mind designing the plays and one guy calling the plays. When I come to the sideline, he's the first person to talk to me, and we start going over things," Campbell said. "I think that's the biggest difference right now. We're getting all the communication from one guy."

As it stands, Campbell's transitional period might have just been one game. In a Week 1 loss to the Giants, he was pressured and looked shaky. But since then, he's engineered three offensive wins and has split the ball well between the team's many targets.

The result has been an eighth-ranked offense so far from a team that has been relatively grounded for the better part of a decade.

"Jason is progressing along. He's got a ways to go, but I think as the season goes, because each game just gets bigger and bigger, I hope the progression keeps going and he doesn't level out," Zorn said. "I hope he plays as steady as he has the last three games. He has made some big strides from the first game to the second game. I think he's just playing steady right now."

The connection for the quarterback and his coach is personal, a chemistry between an insanely competitive first-year head coach and a quarterback trying to stick out in a division with a lot of good ones.

It's something Zorn understands firsthand. Perhaps the most potent aspect of Zorn's impact on Campbell, is the fact that Zorn, in Campbell's words, was "a good quarterback" himself.

"I love to win and I demand a lot. I'm very hands-on. I try to pay attention to the details," Zorn said. "I don't miss much with Jason. Partly because I played and partly because I care and I know what I'm looking for - I'm just trying to get him to play freed up and play with the same kind of intensity."

Zorn said he wants his players to feed off of that intensity that he shows in practice. After all, if he can't show it, why should they?

It's led Campbell to call his new coach "the Wild Man." Campbell is just happy to be along for the ride.

"He's a pretty emotional guy," Campbell said. "You never know what you're going to get out of him during quarterback drills."