When he rejoined Andy Reid's staff in late January, special teams coordinator Ted Daisher knew he had inherited a pair of stud returners in Quintin Demps and DeSean Jackson. Following a weekend that netted the likes of NFL newcomer Jeremy Maclin and veteran Ellis Hobbs, he has even more options now.
"Well, only one guy can return the ball at a time, but it is nice to have people who have done it before, who've been successful," said Daisher following Saturday morning's workout.
Demps finished the regular season with a 25.3 kickoff return average and his 1,314 total kickoff return yards in 2008 were second-most in Eagles history behind only Allen Rossum. Jackson, meanwhile, rattled off three punt returns of 60 yards or more, including playoffs, and averaged more than 17 yards per return in the postseason and 8.8 yards in the regular season.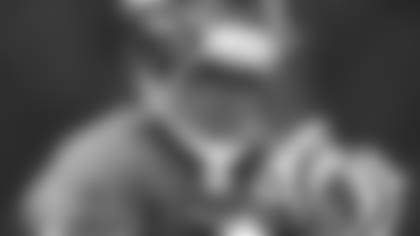 Rookie Jeremy Maclin
Maclin was a standout as both a kick and a punt returner at Missouri. In 2008, he ranked third in the Big 12 with 23 punt returns for 270 yards (11.7 avg.) and one touchdown. He also racked up 1,010 kickoff return yards and a touchdown on 42 returns (24.0 avg.). Hobbs ranked second in the NFL with a 28.5-yard kickoff return average in 2008 and has returned a kickoff for a touchdown in each of the past three seasons.
"I think the way that we're going to approach it (is) the guys that were here a year ago are going to get the first shot. DeSean Jackson as a punt returner, Quintin Demps as a kickoff returner and then everybody will compete from there," Daisher said. "Ellis Hobbs is a terrific kick returner. Jeremy Maclin is a young guy with a lot of potential and we'll work with him and see how he develops."
Fifth-round pick Macho Harris also has some return experience.
"I think at some point the role that a player has on the team may have some influence over that, but we'll wait and see," Daisher said.
In New England Hobbs started every game the last two seasons while also handling return duties. Back here Jackson started 15 of 16 games in his rookie year and figures to be more of a focus offensively in '09. Demps, meanwhile, is the leading candidate to start at free safety.
Regardless, it certainly seems like a good problem for Daisher, who spent the last two seasons in Cleveland where he worked with Pro Bowl kick returner Joshua Cribbs. In fact, last season the Browns ranked third in the comprehensive annual special teams report created by *The Dallas Morning News' *Rick Gosselin. (Gosselin's report is recognized by NFL teams as the special teams measuring stick.) The Eagles finished tied for 12th in special teams with Carolina.
Daisher says he was greatly influenced by former Eagles special teams coordinator John Harbaugh, whose units were consistently ranked among the NFL's best. Daisher assisted Harbaugh with those units in 2004 and 2005.
"Besides Andy I'm the only person that interacts with the entire team, offense and defense and all those different players," Daisher said. "I'm coaching offensive players and defensive players, the offensive line for field protection, the defensive line ... everybody on the team I'm going to have some interaction with, and I think John was very good at that. I think that's what's helped him become a very good head coach, because you have to learn how to deal with everybody on the team."
And like Harbaugh, Daisher is "active and assertive" with his players in practice.
"That's a very nice way to put it, I like that. I am hands on," Daisher said. "If you want guys to play hard and you want guys to perform in a certain way I think you have to be a little bit of an example, you've got to lead and you've got to coach that way. You have to fly around and get after it.
"We're trying to establish things the way they used to be when John was here and when I was here before. We had some very good special teams units and we're going to do our very best to get that established again and do everything we can to help our team."
New coach. New attitude. And maybe new return men.