When wide receiver Golden Tate came to Philadelphia just before the 2018 trade deadline, Eagles fans knew they were getting a dynamic playmaker who can change the game on the field.
What they might not know is the change he has created off the field as well.
In 2014 as a member of the Detroit Lions, Golden and his wife Elise began the Golden Future Foundation with the goal of enriching the lives of military veterans and their families.
Golden's grandfather and both of Elise's grandfathers served in the Army in the Korean War and World War II. They know first-hand the sacrifices military members make.
"I think they're real-life superheroes," Golden said. "The sacrifices they make for us to walk freely, live freely, and do the things that we love is something that we should never ever take for granted."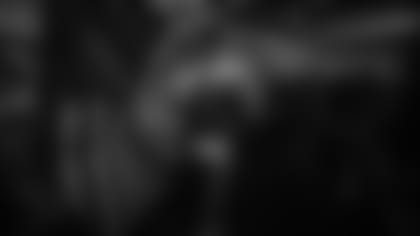 Since 2014, Golden and Elise have teamed up with organizations primarily in the Detroit area to make a difference in the lives of veterans and their families through various events.
In 2015, the foundation hosted a winter coat drive at a local elementary school and collected more than 2,000 coats for veterans in need. The Tates helped with holiday shopping for children of military families who could not be home for the holidays and established the inaugural Stars and Strikes bowling fundraiser to support Pets for Vets and provide service dogs for Afghanistan veterans.
In 2016, Golden was nominated with Brian Cushing of the Houston Texans to travel overseas as part of the NFL/USO Tour. They spent time meeting with veterans in Germany and Kuwait. It was an eye-opening experience that further inspired Golden.
"We're just looking for ways to spread awareness and just donate as much money as we possibly can to these different organizations," Golden said. "Even if it's building a ramp in a veteran's home as he comes back or helping with medical bills, whatever the needs are, we try to handle it through our foundation."
There are plenty of difficult moments that come with an important focus. Golden and Elise regularly interact with grieving families who are without loved ones. They try to offer hope and moments of joy with experiences like tickets to games. But they also try to listen and understand the sacrifices military families make.
"That's probably one of the toughest situations, just hearing the everyday struggles that they deal with," Golden said. "But we just try to find ways to help them in every way we can."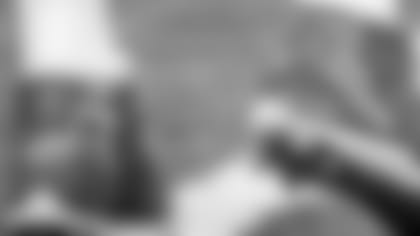 While there are tough moments, there are also plenty of rewarding ones.
At the end of the 2015 season, the Tates invited veteran Eric Gestring to watch a game in his suite. Gestring had just returned from fighting overseas and was dealing with the loss of his father to cancer. He wanted to propose to his girlfriend, Darien, but had trouble affording a ring after medical costs.
The Golden Future Foundation stepped in and provided Gestring with a ring. During pregame warmups on the field, Golden, Elise, and two Lions teammates held up signs reading "Will You Marry Me?" as Gestring proposed.
"It was a really special moment," Golden said.
The Golden Future Foundation is also so incredibly special to the Tates because it is something they always do together. The foundation is primarily run by Golden, Elise, and Ngum Suh, who serves as the event coordinator. It's a close-knit group that wants to make personal connections with other families.
"It's amazing," Golden said. "Without Elise, this foundation wouldn't be much. For us, it's definitely about family."
And at the core of the foundation, it's about giving back. Golden is concerned that most Americans are unaware of the struggles that heroes face abroad as well as when they return home. He wants his foundation not just to assist veterans but also shed light on how deserving these men and women are of respect and appreciation.
"One thing that I've noticed, no matter who I talk to, they feel like it's an honor to serve our country," Golden said. "So, it's really humbling to be around those people because I know we take for granted a lot of things they don't have when they're overseas.
"We're always constantly just trying to say thank you and let them know that we're thinking about them, so they never, never feel forgotten."