For all the accolades that quarterback Eli Manning and the New York Giants have earned this season, there are a few facts that still haunt the defending Super Bowl champions.
For example, it's a fact that since suspending star wideout Plaxico Burress, New York is 1-3 and its only win during that stretch came in overtime.
It's also true that the Philadelphia Eagles are not only the last team to defeat the Giants in the postseason, they're the last team to beat the Giants at the Meadowlands.
Speaking of the Meadowlands, Manning is yet to score a post-season point there in his career.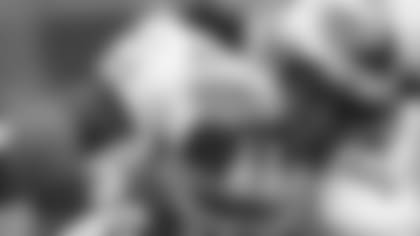 The Eagles know that without Burress they can focus more on the rushing attack
After going one-and-done in his first two forays into the playoffs, Manning guided New York on an improbable four-game run through last January and February and piloted the Giants to an unlikely Super Bowl crown.
But it's hard to ignore that without Burress, Manning is a starkly different quarterback and the Giants are a starkly different team.
"It makes a difference, there's no question about it," defensive coordinator Jim Johnson said. "We'll still mix up our coverages and our fronts but it makes a difference without Plaxico. The biggest thing with Plaxico was trying to get a matchup. We really didn't have a good matchup. We feel we have a guy that can matchup with (wide receiver Domenik) Hixon a little bit. Plaxico was so tall, it was hard to match up sometimes."
With Burress on the roster, the Giants started the season winning 11 of their first 12 games. Since his suspension, however, the Giants have won just once. Hixon was supposed to be an adequate replacement for Burress, but it's hard to emulate the type of physical attributes a player like Burress brings to the table.
Manning has felt the pinch. In the first 12 games of the season, Manning completed 68.2 percent of his passes and had an 18-to-7 touchdown-to-interception ratio. In the four games without Burress due to the suspension, Manning has completed just 49.2 percent of his passes and has thrown as many touchdowns (3) as interceptions.
In the Giants' four playoff wins of a year ago, Burress recorded 18 catches for 221 yards and a touchdown.
Since taking over for Burress, Hixon has had similar numbers to Burress' 2007 postseason. He's caught 17 passes for 223 yards and a touchdown.
Still, it's hard to teach height.
"I think they like him a lot," Johnson said. "I think Eli likes him a lot. You can see him throwing the ball a lot to him. He is a talented receiver. He has good speed. The thing about Plaxico, we all know is his great size and the speed he has. He's a unique player. I do know that they like Hixon and he is still a factor."
Teams had to game plan around Burress. The same cannot be said for Hixon.
Instead, opponents can focus more attention on the Giants' potent, three-pronged rushing attack, which has been slowed a bit in Burress' absence. But in the Giants' biggest game in December this season, a clash against Carolina that determined the No. 1 seed in the NFC, New York churned out 301 yards on the ground.
"Their running game is such a big part of what they want to do," Johnson said. "They're No. 1 in the NFL in rushing. So, that's where you have to start. There is no question that is one of our objectives. You have to get them into third-and-long situations. It's no secret that the first time we played them, they had a lot of third-and-mediums. The last time we played them, they had a lot more third-down-and-long situations and we were able to get off the field. That's the key; still stopping the run."
If the Giants can run the ball half as well as they did against the Panthers, the Eagles could be in for a long day. If, however, the Eagles can do what they did in their last trip to the Meadowlands, which is hold New York under 100 yards on the ground, they will give themselves a good chance at emerging victorious and keeping Manning winless at the Meadowlands in the postseason.