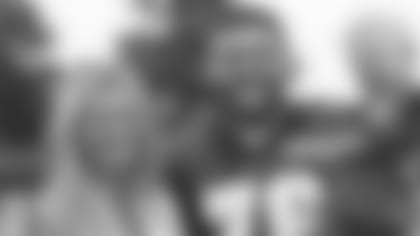 Allen Barbre joined the Eagles in 2013 and is entering his eighth year in the NFL. Barbre was a four-year letterman at Missouri Southern State and was drafted in the fourth round of the 2007 NFL Draft by the Green Bay Packers. One of Barbre's most memorable moments on the field was when he scored a touchdown at Missouri Southern in honor of head coach John Ware, who passed away from a heart attack. In the 2014 offseason, Barbre signed a three-year contract extension with the Eagles, keeping him in Philadelphia through 2017.
If He Could Play Another Sport What Team/Position: Professional Hunter
First Job: Hauling hay in the summer at a local farm.
Favorite Philly Restaurant: Del Frisco's
Hobbies: Spending time with his family, working on old cars, hunting with his dog Remy and morel mushroom hunting.
Player He Models His Game After: "I really look up to and appreciate the opportunity to play with Jason Peters."
Barbre's great-great grandfather, Eli Barbry, was a chief of the Tunica-Biloxi Tribe of Louisiana. Barbre takes pride in his Native American heritage. Not only is Barbre proud of his roots, he also believes his upbringing helped him succeed on the football field. When Barbre was younger, he hauled hay which helped him on the football field. "It made me mentally tough and gave me the ability to deal with the heat."