In the Vikings' perfect wild card playoff scenario, the Eagles would be intimidated by Minnesota's gaudy No. 1 ranking against the run.
The Eagles would then abandon the run early, become one-dimensional and use running back Brian Westbrook as a decoy or a pass blocker.
That's as likely to happen as the Cowboys suddenly making the playoffs.
Westbrook said he hopes he's not chipping too many pass rushers when the Eagles face the Vikings on Sunday in the first round of the NFC playoffs.
"I hope not," Westbrook said. "I think we still need to give those guys a challenge and I think we have the guys up front who can give them a challenge. They've been very stout against the run, so it's going to be tough."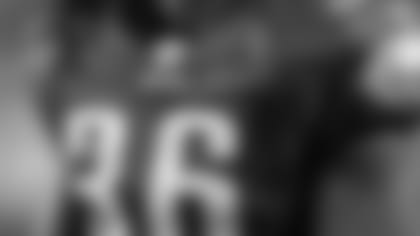 RB Brian Westbrook
Westbrook noted how important it is for the Eagles not to give up on the run even if the Vikings stuff them early in the game.
"I think our goal is to try to go in and try to establish the run and push them around," Westbrook said. "We have played against very good teams against the run before and we've had success. I think for us, it's very important that we try to go out there and at least establish the run."
Westbrook's numbers are down from last season, but that might be a misnomer. Besides being injured for most of the season, other weapons have emerged on the Eagles' offense.
"I think the scheme a little bit, but probably the biggest part of it is that I've been banged up a little bit," Westbrook said. "When you add DeSean (Jackson) in there, he's catching a lot of balls as well. I think the injuries definitely played a part in it, but we have some guys who are playing well. The tight ends, wide receivers and other running backs are all playing well. That's part of it as well."
The funny thing about the Vikings' perfect playoff scenario is that it's similar to the Eagles' approach. Philadelphia hopes it gets an early lead and forces Minnesota away from using running back Adrian Peterson.
Reid said playing the NFC East has prepared the Eagles for what they're about to face in Minnesota.
"You're talking about if not the best truly one of the top two best runners in the National Football League, potentially the MVP of the National Football League," Reid said. "He's a heck of a player. I'm not sure exactly how you prepare for him. It doesn't hurt to have been in the NFC East and to have played the teams we've played this season. They have some good runners. That guy is a special player."
So, who's the bigger weapon: Westbrook or Peterson?
For one of the few times this season, Westbrook doesn't enter a game as the contest's marquee running back. Peterson led the NFL in rushing with 1,760 yards this season, which is more than all of the Eagles' running backs combined.
That's not a knock against the Eagles; Peterson outgained 13 teams including the Eagles by himself on the ground this season.
But Westbrook doesn't measure himself against other running backs. Rather, he focuses on how he and his team are faring.
"No, it doesn't motivate me at all," Westbrook said. "Adrian is a very good running back. I motivate myself, not based on somebody's assessment of him. I think he is a great running back and has done a lot of good things in the league since he's been here. For me, I worry about myself and about this team winning football games and trying to go out and help this team win."
Reid is aware how dangerous Peterson can be, but he's also a big Brian Westbrook fan.
"That's why I reserve room for saying that (Westbrook) might be the best or one of the best, because I'm a little partial to Brian because of the things he does for our football team," Reid said. "I think Brian is a proud football player, very good football player. He'll take this as a challenge as they will try to stop Brian. He's a heck of a player."
Both backs will have difficulty finding daylight on Sunday. The Vikings prowess against the run has been well-documented, but the Eagles are no slouches in that area, either. Philadelphia had the NFC's best overall defense and they ranked fourth in the NFL against the run.
Reid realizes the Eagles' offensive line will have to pick up their game a bit if they're going to be able to establish the run against Minnesota.
"Their run defense is tough," Reid said. "They're No. 1 in the National Football League. We've gone up against a couple pretty good run defenses. Those two inside (DTs Pat and Kevin Williams) are two of the best in the business and they have been for a number of years. We played against both of them last year, it's tough to run inside there. Your inside three have to pick up their game a little bit."