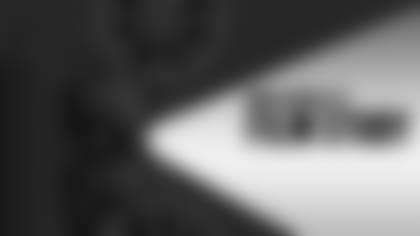 In our new weekly feature, NFL Films senior producer Greg Cosell will share his observations of the upcoming opponent through the tape study of the team's previous game. Here are Cosell's notes from the Jets' 20-7 win over the Indianapolis Colts on Monday night. Fran Duffy's Eagle Eye in the Sky will feature the All-22 of the Jets' defense on Thursday.
Eight Observations Of The Jets' Offense
1. The Jets' predominant personnel packages were 11 personnel (24 plays) and four-receiver personnel with 1 back (19 plays). In Week 1 against the Browns, 72 percent of the total offensive snaps featured three- or four-receiver personnel.
2. The empty set is a significant part of the Jets' offense, at times out of base personnel. Through two games, quarterback Ryan Fitzpatrick has been in empty sets for 15 snaps, third most of any NFL quarterback after New England's Tom Brady and Dallas' Tony Romo.
3. Fitzpatrick a very erratic passer. He still has a tendency to miss routine throws with poor ball placement.
4. The Jets do not have a vertical dimension to their offense. Wide receiver Brandon Marshall is a matchup receiver, but he will not run by corners.
5. The Jets continued to feature 3x1 sets with Marshall as the single receiver to the boundary.
6. Wide receiver Eric Decker's 6-yard touchdown reception in the first quarter was a great red zone concept. Decker's tight motion from Z alignment (zin motion) created a natural rub element with TE Jeff Cumberland. The Colts were in man-to-man coverage and cornerback Vontae Davis was forced to go over the top of linebacker Jerell Freeman in man coverage on Cumberland. It was a well-designed red zone concept.
7. The Jets did not run the ball effectively out of 21 personnel with fullback Tommy Bohannon. The Jets also did not run well out of 11 personnel.
8. Running back Chris Ivory's best run of the game was a 19-yard gain late in the third quarter. It came out of 21 personnel. Ivory did an excellent job pressing the hole and then cutting back side, which impacted Freeman and opened the cutback lane.
Ten Observations Of The Jets' Defense
1. When you play the Jets, you must change the dynamic of their man coverage with bunch concepts, stack release concepts and shifts and motion.
2. Inside linebackers David Harris and Demario Davis do not come off the field.
3. Against the Colts, the Jets featured Bear fronts with two 3-techniques out of their 3-4 alignment.
4. Colts quarterback Andrew Luck's first interception came off a Jets double A-gap alignment and blitz. The Colts picked it up exactly the way you're supposed to with the center and the back. That made slot blitzer Buster Skrine unaccounted for off the edge. Luck knew that and knew he could beat Skrine with his throw. Defensive lineman Leger Douzable dropped out into the short passing lane where Luck wanted to throw to Andre Johnson. Douzable hit Johnson to disrupt the timing of Luck's throw. Luck then made an inaccurate throw to Johnson in the middle.
5. Luck was not sharp throwing the ball early in the game. His accuracy was off and he missed some throws that were there, including two red zone misses on the Colts' second possession: Tackle-eligible Joe Reitz on a game-planned red zone play, and he did not give T.Y. Hilton a chance on a fade route in which Hilton had a step on cornerback Darrelle Revis.
6. The Jets feel very comfortable playing man-to-man in their nickel with Revis, Antonio Cromartie and Skrine. They matched up safety Calvin Pryor at times on the tight end. New York predominantly matched Revis on Hilton when aligned outside, but also at times in the slot.
7. The Jets also matched up Davis at times on the tight end in their man coverage schemes, especially two-man. New York can squeeze the middle of the field and feel very comfortable with Revis and Cromartie playing man-to-man on the outside.
8. In different packages, the Jets matched man-to-man Pryor, Davis and linebacker Jamari Lattimore on the tight end. The Jets had no problem matching a linebacker on tight end Coby Fleener in man coverage.
9. The Jets played significant snaps of zero man on the outside with Revis and Cromartie. They have their safeties often play in the numbers to hash area.
10. Safety Marcus Gilchrist's fourth-quarter interception came off a stunt blitz out of two-man coverage. The inside stunt by Douzable and Muhammad Wilkerson broke down Colts center Khaled Holmes and right guard Todd Herremans. Running back Frank Gore crossed the formation to pick up the green-dogging linebacker in Davis, who had Fleener in coverage but Fleener stayed in to protect. Wilkerson got in clean and forced Luck into a hurried throw to Johnson on the out route.