The preseason is complete. The coaching staff and personnel department have made the final decisions about the 53-man roster. I like what I see. But wait a minute. I liked the 2007 team. That group was up and down all year long and only finished 8-8. What makes this team different?
I thought about that for a while and one thing occurred to me.
Think about 2007. We hoped that Donovan McNabb was going to be a good quarterback coming off his torn ACL. We hoped L.J. Smith could play through his sports hernia problem and be a playmaker for us. We hoped someone would step up as a punt or kickoff returner. We hoped Brodrick Bunkley would become a good starting defensive tackle. We hoped Jevon Kearse would be able to get to the quarterback as he came back from his knee injury. We hoped either LaJuan Ramsey or Montae Reagor would prove to be a good defensive tackle off the bench. We hoped William James would be at least a good No. 3 cornerback. I think you get the point. Too much hope.
This year we have more answers than last year. McNabb has played very well and looks all the way back. The backfield is loaded with Brian Westbrook, Correll Buckhalter and Lorenzo Booker. Fullback remains a mystery. Tony Hunt won the job, but we have no idea how he'll play. That is one position where we'll be doing some hoping.
Tight end is better off than 2007. Smith is healthy this year after struggling all-season long in 2007. Brent Celek is in his second season and should be a good contributor. Celek started slow as a rookie, but really stepped up at the end of the season when he seemed to finally be comfortable.
The only skill position left is wide receiver. This group is intriguing. We have to hope Kevin Curtis is able to comeback by midseason and play like he did last year. Reggie Brown hasn't been used much in the preseason. He had some injuries, but I'm told he's on pace to play against the Rams. DeSean Jackson really opened some eyes this summer. I watched him play at Cal for three years and knew how talented he was, but didn't expect this level of play from him. Jackson is the real X-factor. He could be a solid rookie player or he could be a playmaker that actually makes a difference for us. Jason Avant looks terrific as the slot receiver. Hank Baskett and Greg Lewis will each play a lot while Curtis is on the mend. They can be effective if used correctly.
The offensive line was great in 2006. That group slipped last year. The good news is that everyone is healthy this time around. I don't think we have to do any hoping with this group. The guys simply need to play up to their capabilities. We had several backups get playing time with the starters in training camp and preseason. Max Jean-Gilles and Nick Cole both got mixed into the lineup at various times. The backup linemen played well and should be ready if called on.
The 2007 defensive line had a lot of questions. This group does as well, but these are the right kind of questions. How you make best use of the players you have? Who is active on gameday? Who plays on the left side? Which ends can slide inside and play tackle? Trent Cole is a blue chip player up front, and the group is deep and talented. Juqua Parker and Darren Howard are versatile veterans. Howard is in excellent shape and has a chance to see a good amount of playing time while Victor Abiamiri is recovering from his wrist injury. Chris Clemons needs to get healthy. He should be able to contribute as a situational pass rusher once he does. The goal is for him to play in the opener. Rookie Bryan Smith made the team, but no one is sure how much he'll play. The guess is that he doesn't play much.
Defensive tackle could be really good. Last year we knew Mike Patterson was solid, but the rest of the group was a mystery. Bunkley proved he could be a good starter. Now that he's got some experience, the question is just how good he can be. Patterson showed enough that you think he could be a very good player. The Eagles have looked for backup tackles for a couple of years now. They couldn't find one they really liked in the span of a couple of seasons. This year it looks like they found two. Dan Klecko started his time here at fullback, but slid over to tackle after that experiment didn't work out. There weren't high expectations for him. Klecko made plays all summer long and earned a job. Rookie Trevor Laws also played well. He makes some rookie mistakes, but his motor and ability are obvious. He can be a good player off the bench.
Linebacker has more certainty this year. We had new starters at each spot last season. Gocong returns on the strong side. Gaither moves back out to the weak side. Stewart Bradley takes over in the middle, but he played some last year down the stretch and looked very good. The Eagles had three good linebackers in 2001, 1995 and during the Gang Green era. Other seasons featured one or two, but not a whole unit. The 2008 group could be good all around. Optimism runs high with this group.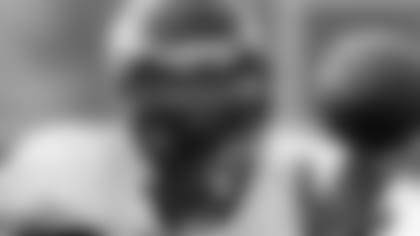 S Quintin Mikell
The secondary could be the best in the NFL. William James is out and Asante Samuel is in. I'd call that a major upgrade. Lito Sheppard and Sheldon Brown remain a pair of outstanding corners. Joselio Hanson is back as the number four cornerback. Quintin Mikell is the strong safety. He's played great this preseason. This is his first time as a starter going into a season. I think Mikell is determined to prove that he is not only a starter, but a very good player. Brian Dawkins is back at free safety. He's ahead of where he was last year. Dawkins is hungry to put 2007 behind him and get back to the winning ways of the past. Sean Considine looks like a different player. He is flying around to the ball and hitting everything he can. His shoulder must be in great shape.

Special teams were tough to watch at times last year. That should not be the case in 2008. DeSean Jackson is the punt returner. He'll have his rookie moments, but he adds speed and big-play ability to the return game. Quintin Demps looks terrific as the kickoff returner. He averaged 36 yards a return in the preseason.

Punter Sav Rocca is improved this year. His gross average was down in the preseason, but he's a lot better with his directional kicking. He's done a good job of pinning teams inside the 20-yard line. He's also improved at putting the ball near the sideline to help his coverage units.

David Akers had a good summer. He is getting good depth on his kickoffs. He only missed one field goal attempt. He worked real hard to get in top shape during the offseason and it looks to have worked. Jon Dorenbos and Rocca were major question marks last year as the snapper and holder. They did fairly well during the season and should be solid again this year.

I am genuinely excited to watch this team play. The opener against the Rams can't get here fast enough. I was optimistic in 2007, but in retrospect that was based on a lot of hope and "what if" situations turning out in our favor. This year's team looks better on paper. It played better in the preseason. Very shortly we'll find out if in fact it is a better team. Anything less than a trip to the Super Bowl will be a major disappointment.