Asante Samuel has lofty expectations for himself. That's why a pair of dropped balls – potential interceptions – in his first game as an Eagle bothered the prized free agent signing so much.
"I have to work on my hands a little bit, obviously," Samuel said. "If I want to be known as the best corner to ever play the game, or one of the top corners to play the game, I definitely have to make those plays. And I usually do, I don't know what was going on today, so I just have to go work on it in practice."
Though Samuel found something to complain about, it wasn't really much in the grand scheme of things. In the Eagles' 38-3 win on Sunday, Samuel and the rest of the Eagles' cornerbacks effectively shut down a once-potent St. Louis passing attack. The Rams' wide receivers caught just six balls for a grand total of 47 yards, including just one grab for future Hall of Fame receiver Torry Holt.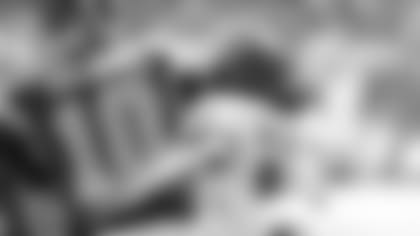 CB Asante Samuel
Samuel undercut a couple of routes, knocking the ball down but missing possible turnovers, the area Samuel was brought in to improve. The Eagles converted a league-low 19 in 2007, while Samuel had six interceptions by himself in New England. They were balls, Samuel said, he'd almost certainly pull down in any other situation.

But, at least in this game, the deflections were effective enough.

It was also the first game that an elite cornerback duo became a threesome, with longtime partners Lito Sheppard and Sheldon Brown joining newcomer Samuel for a legitimate shutdown attack. The Eagles spent most of the game in nickel, mixing the three in an array of packages.

They pressed, blitzed and dropped into zone, confusing quarterback Marc Bulger, who, thanks to the Philadelphia front seven, already had insufficient time to make accurate throws. Even the corners got involved in the pressure, with Sheppard narrowly missing a sack as he flew past Bulger on his blindside. Still, Sheppard disrupted the play enough for Dan Klecko to finish Bulger off.

The Rams finished 0-for-11 on third down situations; an area Rams head coach Scott Linehan said would decide any game that didn't have a single turnover.

"It's huge, but I think we (did the same thing) last year," Brown said. "We want to focus on trying to get some of those balls and catch the momentum. Let people know, 'If you do throw it, we're going to catch it.' Because if you're not catching it, they're going to still be comfortable taking chances."

On one of the chances St. Louis did take, it was Brown, coincidentally, providing the play of the day. For as much as Samuel is known for his picks, Brown's known for his hits.

On the Rams' biggest offensive gain of the day, a 24-yard pass to Steven Jackson, Brown exploded across the middle and lowered his shoulder, blowing Jackson's helmet off in the process. Jacked up, most would say, and most probably did.

In other words, somewhere in New Orleans at about 2 PM, Reggie Bush shuddered, and he didn't know why.

Brown, though, was disappointed Jackson held onto the ball. He seems to benchmark his career with big hits, marking off his victims like dashes on a timeline.

"I was a rookie (at the time,) so I like (then-Cowboy) Reggie Swinton's hit the best," Brown said. "That was the beginning of my career."

In the coming weeks, Samuel might have two interceptions, Sheppard a sack and Brown a forced fumble. But this wasn't a bad place to start.

"Whenever you can hold an NFL team to three points, it's good," Samuel said. "But there's a lot of room to improve and there's a lot of work we still have to do. We have to keep chopping at the wood."