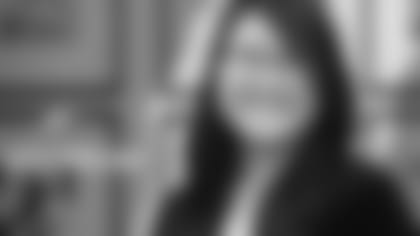 As the social media manager of the Philadelphia Eagles, Katie Tang covers all the team accounts and oversees the social media strategy across the organization. She started as the Eagles' social media coordinator in February 2013, almost exactly one month after head coach Chip Kelly joined the team, and was named to her current post this past April.
Where are you from? I grew up in the small, passionate sports town that is Buffalo, New York, right by Canada. Yes, it snows a lot there.
What college did you attend? As a member of the Class of 2012, I earned a Bachelor of Science in journalism from Northwestern University's Medill School of Journalism. Go 'Cats!
How did you get your start in the sports industry? I covered all kinds of beats for a school publication during my freshman year, and fell in love with the sports atmosphere. I decided during sophomore year that I'd very much like to be a part of creating those fan moments, and from there pursued a number of internships in the sports business, from broadcast media to agency marketing to public relations.
Any other jobs in the sports industry prior to the Eagles? The day after I graduated from college, I packed up my stuff and drove 12 hours to Atlanta, where I spent a season with the Atlanta Falcons as a full-time intern with the corporate partnerships team.
How has technology impacted your career? I live, breathe, eat and sleep technology. While my top goal is to deliver the best content possible to the fans, none of it is possible without the amazing digital tools available that keep the world of social media turning.
Who is role model/mentor in business? Tom George. He was the senior vice president of athlete & property marketing at Octagon during my summer internship and he took me under his wing. I learned a great deal about sports marketing, professionalism and the virtue of hard work from his guidance, and he nurtured my confidence as I built a foundation in sports. After a summer of working for Tom, I knew I had what it takes to achieve success in this grueling industry.
What is the best part of your job? Interacting with #EaglesNation online, at the stadium and on the road. Best fans ever.
What is the most challenging part of your job? There's always so much great content across the Eagles digital network, from PhiladelphiaEagles.com game analysis to Eagles Network's exclusive interviews to team photographers' galleries that take you right into the action. It's tough to make sure fans can find it all across the team's social media channels.
What advice would you give to someone who wants to work in sports? This industry is like any other, hard work and a strong skill set with go a long way. Understand and develop your interests, and there is no doubt you can find a way to apply it to this industry. Do you love photography? You can be a kick-butt sports photographer. Are you a math whiz? Become a salary-cap whiz. Can you catch a football? Then you should definitely try out for your school's football team.
Were you once an athlete yourself? Casually. Swim team was my top sport in school, and I dabbled in field hockey and lacrosse.
What is your favorite part of gameday? Arriving at the stadium six hours before kickoff and walking onto the field. It's an awesome feeling to be surrounded by emptiness and imagine the excitement and possibilities that lie ahead later that day.
Favorite Eagle of all time and why: Jason Peters. Not only is he a Hall of Fame-caliber tackle who went from undrafted rookie to All-Pro career, but he sticks up for his teammates, no matter what. #TheBodyguard also has the best Instagram (@franchy832).
Favorite memory on the job: Honestly, any chance I can make a fan's day, whether it's retweeting someone's photo or posting a link to /r/Eagles or taking a selfie at a road game, is my favorite moment on the job. #EaglesNation loves this team so much, and I so appreciate every opportunity I get to share that passion and excitement with the greatest football city in America.
Favorite Eagles game: #SnowBowl. It still gives me chills, figuratively and very literally.