When Kurt Warner was being beaten and battered by Jim Johnson's defense in the 2004 season opener as the starting quarterback of the Giants, winning a third league MVP award was the furthest thing from his mind.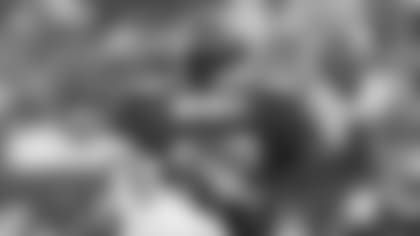 QB Kurt Warner in 2004
Fast forward four years and the 37-year-old Warner is once again drawing a lot of consideration as a candidate for the league's Most Valuable Player as he has the Arizona Cardinals on the brink of their first division title in 33 years. The team can clinch the NFC West with a win Thanksgiving night against the Eagles.
"I didn't know if this time would come again," said Warner in a conference call with the Philadelphia media. "It's fun to be able to be back on a team that's winning, a chance for the playoffs. That's what you play for. You play to win a championship, and it's nice to be in the mix for that again."
Many NFL pundits thought Warner's best years were already behind him. Turns out, he has revived his career in the Arizona desert as the triggerman for the the league's second-ranked passing offense. And just as Warner had a corps of playmakers in St. Louis -- Isaac Bruce, Torry Holt and Marshall Faulk — he has two of the best receivers in the NFL in Arizona's Larry Fitzgerald and Anquan Boldin, who have combined for 17 touchdown receptions, along with an emerging running back in rookie Tim Hightower.
"He's putting things right on the money," free safety Brian Dawkins said. "He's putting the ball in his playmakers' hands. Those guys don't have to do anything but catch the ball and continue to run. He's putting the ball where it needs to be."
This season, Warner is ranked third in completion percentage with 69.7, second in yards passing with 3,506 and third in touchdown passes with 21. On the negative side, he has lost six fumbles and has thrown eight interceptions. He has been sacked 19 times.
Warner has thrown for at least 300 yards five games in a row and will look to make it six against a defense he is familiar with from his days with both the Rams and Giants. Only once has he thrown for more than 300 yards against an Eagles defense (Sept. 9, 2001).
"Coach Johnson always does a tremendous job of bringing pressure," said Warner, who is 2-3 lifetime as a starter against Philadelphia.
Warner in his career has had mixed results against Johnson's pressure-packed scheme. In five career games against the Eagles (including playoffs), Warner has averaged 216.4 passing yards per game, with four touchdowns and six interceptions. Philadelphia's defense has sacked Warner 19 times (3.8 sacks per game) and he has lost two fumbles.
In fact, Warner's teams have lost in their last two trips to Philadelphia. In 2002, the then-Rams quarterback was picked off twice and sacked eight times in a 10-3 loss, and in 2004 as the starting quarterback of the Giants Warner threw for 203 yards and was sacked four times in a 31-17 defeat.
When the Eagles faced Warner in the past, their strategy always was to put a beating on him. However, he has handled the pressure well in 2008. According to STATs, Inc., Warner has been blitzed 135 times this season and has completed 96 passes during that span for 1,286 yards, 10 touchdowns, one interception and only four sacks for a QB rating of 122.6.
Warner directed a Cardinals offense that rolled up 371 yards of offense against Johnson disciple Steve Spagnuolo and the Giants defense last week.
"You have to make sure that when you do bring pressure that you get home because he can pick you apart," linebacker Omar Gaither said. "He still has an arm and he has two of the best targets in the league. That's just a good combination for him. Those guys have revived his career in a lot of ways."
Warner was on the winning side when the Rams beat the Eagles in the NFC Championship game following the 2001 season. He went on to start just nine games over the next two seasons and, suddenly, the former Arena Football quarterback-turned-two-time NFL MVP and Super Bowl MVP was considered damaged goods and was released by the Rams in 2004. After a year in New York, Warner signed with the Cardinals and has seemed to have found a home there.
Warner started 15 games over his first two seasons in Arizona, but endured his struggles.
"When I was benched here I did kind of wonder if I would ever get the chance again to really lead a team and have a team that would commit to me for the long haul," Warner said.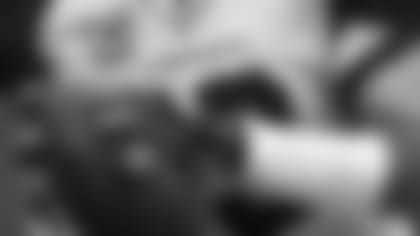 QB Kurt Warner
Warner began the 2007 season as Matt Leinart's backup and at times, rotated in with Leinart. But he ended up starting 11 games when Leinart was lost to a season-ending injury. Warner threw for an NFL-high 21 touchdown passes and posted four 300-yard passing games over the final eight games while leading the Cardinals to a 5-3 record.
Warner appeared to be the odd man out during the last off-season and even into training camp as Arizona looked to Leinart as the heir apparent to the offense, but Warner won the starting job. He has continued his high level of play in 2008.
"Ultimately, it just came down to a decision of which one would give us the fastest start," said head coach Ken Whisenhunt in discussing his quarterback decision.
Certainly, the coaching staff has focused the offense around Warner's skills.
"I think for a couple of years there his confidence might have been a little down, a little shaky," Dawkins said. "People were talking about, he's fumbling the ball too much and all that stuff, but now he's not doing that as much and he's putting the ball in his playmakers' hands."