How much impact the Eagles will receive from their draft class remains to be seen, of course. When the rookies gather at the NovaCare Complex next weekend for their post-draft camp, draft positions will be dismissed and every player will have to prove himself to the coaching staff.
The Eagles drafted eight players and feel they came away with some help for the roster. Just how they project for 2013 is the discussion here ...
He's long and athletic and has experience in the fast-paced offense Chip Kelly wants to employ here. Lane Johnson has a long way to go before he reaches his full ability on the football field so it's going to be fun to watch him learn from coach Jeff Stoutland and this group of veteran linemen already on the roster.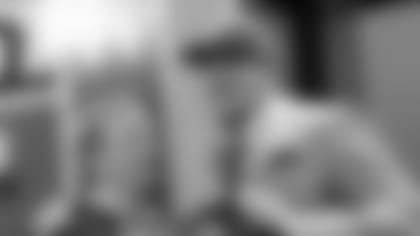 Does Johnson walk in as an immediiate starter? Nobody does that, but the Eagles are certainly going to give him plenty of reps, likely at right tackle, and see how he assimilates into the system.
The Eagles figure to have a lot of competition up front. They have a lot of veterans with starting experience and they have some young depth. Stoutland has a lot of pieces with which to work, and Johnson is a large piece of the puzzle both for now and for the future.
It may take some time, however, for Johnson to get up to speed here. Then again, who knows? He has come a long way in a short period of time in his football career and with his work ethic, intelligence and athletic ability, there is no telling how quickly Johnson will reach his zenith.
The selection of Zach Ertz provides the offense with another playmaking option and gives the Eagles outstanding depth at the tight end position. He was able to create plenty of favorable matchups at Stanford and was simply too fast for linebackers to cover and too big for safeties to stick.
So, Ertz is now a weapon for Kelly and offensive coordinator Pat Shurmur. Adding Ertz to a group that includes Brent Celek, James Casey and Clay Harbor gives the Eagles a lot of versatility and flexibility. Kelly says he will employ three tight ends on the field at times, something we haven't seen around here.
The new age of three-tight end sets in the NFL arrives in Philadelphia, then. And the Eagles are counting on Ertz to be a viable option as a receiver, whether he lines up tight in the formation or displaces. They want to use his athletic ability down the field.
BENNIE LOGAN, DT, ROUND 3
A strong, versatile defensive lineman at LSU, Bennie Logan comes with the advanced billing of a player who has quickness and tenacity, along with the skills to be stout against the running game.
Whether the Eagles are playing a 4-3 or a 3-4, Logan will have a chance to earn some reps as a tackle in a 4-3 and an end in a 3-4. The Eagles want depth and numbers along the defensive line. They have Cedric Thornton, Vinny Curry, Logan and seventh-round picks Joe Kruger and David King along with Fletcher Cox projected to compete as that hybrid tackle.
Logan is a high-intensity defensive player who knows how to win and who understands the mentality of a defense playing dominating football.
Moving to the top of the fourth round to select Matt Barkley was the headline of the third day of the draft, and now the story is how he will factor into the quarterback picture here. Any analysis of Barkley from his highly successful days at USC can be discarded, for the only analysis that matters is how he learns this offense and plays on the field.
Barkley will get a lot of reps. All five of the quarterbacks will the way Kelly runs his go, go, go practices. The Eagles want to see him command the offense and read the defenses and make good decisions and throw the football with accuracy and confidence.
Kelly has promised a wide-open competition throughout the roster, so why not at quarterback? Saying Barkley will figure here immediately as a starter or otherwise is foolish. He's here to learn, to make progress and to prove that he is good enough to play at a high level in this offense. Michael Vick and Nick Foles have had a month's head start in the scheme and they've both won games in the NFL.
Barkely, no matter how much hype he's received, is a rookie who has a lot to learn.
It's a crowded field at safety, all of a sudden. The Eagles signed Patrick Chung and Kenny Phillips in free agency and retained Colt Anderson just prior to the start of free agency. Nate Allen and Kurt Coleman are the incumbent starters.
Earl Wolff had a fine career at North Carolina State and many draft analysts expect him to challenge for playing time immediately. The demands of the safety position in the NFL are numerous, so Wolff has to prove he can cover in space, support the run at the line of scrimmage and tackle consistently.
How many safeties will the Eagles keep? They've kept four, at times five, in the past. The past means nothing, for sure, in this new age of Eagles football.
Rich in bloodlines, Joe Kruger knows the NFL game. His brother is Paul Kruger, who won a Super Bowl last year in Baltimore and who now plays in Cleveland. Brother Dave signed with the Browns after the draft and father Paul played at Oregon State.
Kruger is only 20 years old and at 6 feet 6 and 289 pounds has some pounds to add to his body. The Eagles think he has a lot to develop, either as a defensive end or a defensive tackle who can rush the quarterback and play with high intensity. Clearly, with the additions of Logan, Kruger and King in the draft, the Eagles are looking for some youngsters to emerge to provide long-term help for the defense.
How did an All-America cornerback last until the seventh round? That does not matter now as Poyer is in the NFL and will have an opportunity to compete for a spot at a position which has undergone quite a bit of change this offseason.
Poyer is a ballhawk, notching 13 career interceptions (seven in 2012, which was tied for second-best in the country) at Oregon State. Certainly, Chip Kelly is familiar with Poyer having gameplanned against him in the Civil War rivalry.
Poyer is a good athlete who possesses a nice frame at 6-feet, 191 pounds. He is scheme flexible in that he's played in both man and zone defenses during his time in Corvallis, Ore. He is an aggressive, willing tackler. In addition, he was an accomplished return specialist at Oregon State as he finished fourth in school history in punt return average (14.1 yards per return).
The Eagles ended their draft by picking King from Oklahoma and, again, he is part of a crowded and talented group along the defensive line. The Eagles want flexibility there and they want energy and King has all of the above.
But there are no givens here. Not with some young talent already on the roster and with three draft picks added to the defensive line. Expect some great competition as the coaching staff rebuilds a front seven very much in need of some punch.