Bob Brown will be inducted into the Philadelphia Sports Hall of Fame next week. Anyone who saw him play for the Eagles knows the honor is well-deserved. He was the most dominant offensive tackle of his era and arguably the best ever to wear an Eagles uniform.
Brown played 10 seasons in the NFL - five with the Eagles, two with the Los Angeles Rams and three with Oakland. His size, strength and mean streak made him one of the most feared players in the game.
"Bob was the most aggressive offensive lineman that ever played," said John Madden, who coached him in Oakland. "Bob used to say that if he could get the right hit on a defensive end, hit him in the right place like the solar plexus,  he could take a quarter out of him. And he would do it. He'd hit a guy in the first quarter and say, 'I won't see him again until the third quarter.'"
"Bob Brown had a cold-blooded mentality," said Rams defensive end Deacon Jones. "He'd kill a mosquito with an ax."
"I dislike every man I play," Brown once said. "I may not even know the guy, but I dislike him because he is standing between me and All-Pro, between me and my paycheck."
Originally drafted by the Eagles in 1964, Brown made six Pro Bowls and was named All-NFL five times. He will be honored by the Philadelphia Sports Hall of Fame next Thursday at the Sheraton Society Hill. He is the 18th former Eagles coach or player named to the Hall since its inception in 2004.
Brown was the second overall pick in the NFL Draft following an All-America career at Nebraska. He played at 290 to 300 pounds at a time when most linemen weighed around 260. He was one of the first serious weight lifters in the NFL. He had a weight room built in his house and in 1966 his military press was within 10 pounds of the American record.
"In college, I got by on my size," Brown said. "I was bigger than most of the other players. But in the pros, there are a lot of big men who are also very strong, very smart and very quick. To beat them, I have to have something more than size."
Brown looked ponderous in his oversized shoulder pads and size 13 triple E shoes, but he ran the 40-yard dash in 4.6 seconds at his first Eagles Training Camp. He had 20-inch biceps and 33-inch thighs. His neck was 18 ½ inches and his chest expanded to 57 inches. He polished his footwork by skipping rope and he trained five hours a day in the offseason.
"Football is a way of life with me," Brown said. "It sent me through college and now it is lucrative to me as a profession. I can't become complacent. I've set a higher standard for myself.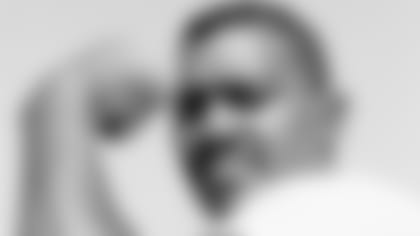 "I don't ever want to be considered just another tackle. You know the way football people talk. Somebody mentions blockers and Jim Parker (Colts Hall of Fame tackle) is sure to be talked about. Well, someday when they discuss tackles, I want them to say, 'What about Bob Brown?' I want to become a household word around the league."
Brown had a massive upper body and long legs that coiled behind him when he was in his three-point stance. At the snap, Brown shot forward with fearsome force. The impact, it was said, sounded like an explosion. That's how he got the nickname "Boomer."
"Bob was an explosive drive blocker," said Dick Vermeil, who was an assistant coach with the Rams when Brown was there. "When he fired out, he catapulted people off the line. He knocked them back 5 yards. You just don't see that in pro football. Bob was one of a kind."
"Bob was the most intimidating player I've ever seen at his position," said Gene Upshaw, the Hall of Fame guard who played with Brown in Oakland. "I had (opponents) come to me during games and say, 'Gene, tell Bob to stop hitting me.'
"Al Davis (Raiders owner) got Bob because there were some defensive ends he felt he needed blocked to win key games. Bob was the stopper. He shut those guys down. He really made Art Shell (Raiders Hall of Fame tackle). Art watched Bob and followed his example."
Brown had the misfortune of joining the Eagles when they were one of the worst teams in football. On many Sundays at Franklin Field, the only thing worth watching was No. 76. The Eagles might be losing on the scoreboard but Big Bob was almost always winning his battle in the trenches.
When the team bottomed out in 1968 and coach Joe Kuharich was fired, Brown - who was a Kuharich supporter - asked to be traded. He was dealt to the Rams for three players, including standout defensive back Irv Cross. But even a package of three players wasn't fair value for a rare talent such as Brown.
Philadelphia native and former Green Bay cornerback Herb Adderley put it very well when he said, "When Bob Brown pulls out to lead a sweep, there is only two things a guy like me can do: get out of the way or get hurt."
Brown retired following the 1973 season. In 2004, he was voted into the Pro Football Hall of Fame. In his acceptance speech, Brown explained his motivation on the field: "I could either go out there and be real good and be the beater, or I could go out there and be very mediocre and be the beatee. I liked the role of beater better."
An award-winning writer and producer, Ray Didinger was inducted into the Pro Football Hall of Fame in 1995. He has also won six Emmy Awards for his work as a writer and producer at NFL Films. The five-time Pennsylvania Sportswriter of the Year is a writer and analyst for Comcast SportsNet. Didinger will provide Eagles fans a unique historical perspective on the team throughout the season for PhiladelphiaEagles.com. You can read all of his Eagles History columns here.