The Eagles are in the process of reconfiguring the defense with Bill Davis as the coordinator, introducing what has been referred to as a "hybrid" scheme, a mix between a 3-4 and a 4-3. Davis wants his defensive mentality to be aggressive, to be physical and to be confident.
Since the spring, Davis has introduced the scheme in spoonfuls to his players, and now they are on the cusp of performing against a quarterback in Tom Brady who has seen it all, beaten it all and who is almost never taken by surprise.
Are the Eagles, then, as far along as they think they are? Just how much will they learn from two practices and then a preseason game against Brady and the New England offense, which is as inventive as any in the league and which taxes defenses with its own brand of up-tempo, spread-formation attack?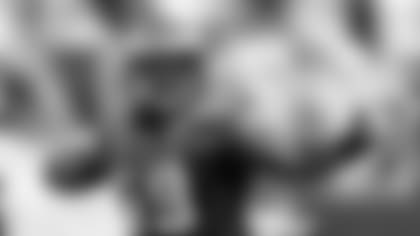 Understand that the defense is a work in progress. The Eagles have basically swapped out their secondary, moved around their linebackers and revamped the line of scrimmage. They've changed coaches and they've adapted a new philosophy.
Training camp is two weeks deep, and here comes Brady, the wise and powerful Tom. The Eagles aren't going to experiment with everything their holster against Brady and the New England offense over the course of two practices and a preseason game, but there is going to be enough interaction to give Davis a feel for what he has, for how far the defense has come since the first practice way back in the early spring.
"It's a great chance to see where we are against a great quarterback," said Davis. "What an opportunity for us to get on the field and work on all the things we've practices, and to see how all of that translates into situations against another team."
There are a dozen other subplots with the Patriots in town, and all of them will be explored to the fancy of the media and the fans. From a football standpoint, there is true value in having New England take part in some of the sessions. Just how intertwined the teams will be through the course of practice is undetermined from this perspective, but there is surely going to be a period or two of 11-on-11 play.
So what are we looking for? Everything, for starters. The Eagles have practiced against themselves since Chip Kelly became head coach, so this changes everything from that standpoint. Cornerbacks aren't going to have a tendency to jump pass routes that they've seen hundreds of times. Defensive linemen are not going to have a familiarity with the mechanics of the offensive lineman on the other side of the line of scrimmage. Linebackers are going to have to read and adjust to entirely new formations without benefit of game planning.
In other words, these two joint practices -- Thursday is a walk through for Friday's game -- give Davis and all of the coaches an excellent opportunity to evaluate personnel and schemes in a unique environment.
"It's always good to see another team and other players," said linebacker DeMeco Ryans. "It's something different. New faces. We get to work against Tom Brady, who isn't going to be fooled by anything. We have to go out and execute what we're asked to execute. We have to communicate and be sound, or Brady will find an opening and make us pay for it."
This isn't the week that tells us everything we need to know about the Eagles, for there are three preseason games to follow and then a regular season-opening game against a powerful and complete Washington Redskins team that is going to be sky-high in its home opener on national television. But this is the first real litmus test that the coaches and use to mark just how far they've come communicating to the players the levels of knowledge needed to run the schemes.
New England is in town, and there is a new kind of buzz at the NovaCare Complex. Three days of work, including the preseason opener, against Brady and a New England offensive system that challenges defense is exactly what Davis wants right now. He is pleased with the progress made by the defense, but how much can he really know when the players haven't tackled anyone to the ground?
This is the week to find out, if just a portion. The defense has an idea of what it wants to do in 2013, and the first quarterback on the agenda is Brady. What a great week of learning and football is ahead for Davis and his Eagles defense.