The clock is ticking, Eagles fans.
On April 30th, the NFL Draft will kick off from Chicago, as NFL Commissioner Roger Goodell announces the latest class of NFL talent. To make sure that you're all set for when the Eagles are on the clock for the first time, we're counting down each day with look at each number from 100-1 and the significance that the number holds in Eagles history.
Without further ado, let's continue the countdown … The significance of the number 77 is threefold for the Eagles. It represents a pair of Eagles playmakers' 2014 seasons. Linebacker Mychal Kendricks notched 77 solo tackles this past season, the most of any Eagle defender. Leading the team is impressive enough, but the stat is even more notable considering that Kendricks missed four games and part of a fifth with a calf injury.
The No. 77 also relates to the offensive side of the football, as wide receiver Riley Cooper secured 55 passes for 577 yards this past season. Cooper finished fourth on the team in both of those statistical categories, and his ability as a blocker helped spring the Eagles' rushing attack.
As it relates to the draft, the Eagles selected wide receiver Fred Barnett (who has previously been featured in this countdown) out of Arkansas State with the 77th overall pick in 1990. First Eagle To Wear No. 77: RT Phil Ragazzo (1940-41)
Current Eagle Wearing No. 77: T Kevin Graf (2014-present)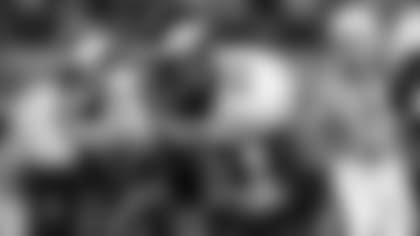 In recent years, the Eagles have had a few notable undrafted free agents who have not only found a way to stick with the active roster, but to thrive as key member of the team. Just this past offseason, kicker Cody Parkey (though he was acquired through a trade) and tight end Trey Burton both starred on special teams despite neither having been drafted. Cedric Thornton, another prime example, joined the Eagles as an undrafted free agent and worked his way up from practice squad to active roster to run-stopper extraordinaire along the defensive line.
Another such story is that of Artis Hicks, a relatively unknown offensive lineman who played his college ball at Memphis. Hicks signed with the Eagles prior to the 2002 season and made the active roster out of Training Camp. Hicks made his first start in 2003 and went on to appear in 10 games that season. By 2004, Hicks was the Eagles starting left guard on the Eagles Super Bowl XXXIX team, playing 14 games and starting 13. He went on to play one more season with the Eagles before he was traded to Minnesota in 2006.
In total, Hicks played 10 seasons in the NFL as a member of four different teams, but he will be most remembered for his rise to success as a member of the Eagles.