A hip injury suffered in practice could sideline Pro Bowl cornerback Asante Samuel for Sunday's game, even though head coach Andy Reid said he expects Samuel to be ready to go against Minnesota. Samuel strained his hip in practice on Thursday.
In addition to defensive end Victor Abiamiri's Lis Franc sprain, Samuel's injury could provide a blow to a defense that Reid said is his best ever entering postseason play. But as a whole, the entire team should be ready.
Stewart Bradley (ribs, groin) made it through last Sunday's game with Dallas without a hitch, as did tackle Jon Runyan (knee). Tight end L.J. Smith (shoulder) could make a return after missing the Dallas game. Runyan and Smith are questionable, and Bradley is probable for the contest.
On Minnesota's sideline, big defensive tackle Pat Williams (broken shoulder) is questionable and will be a game-time decision.
How healthy will Brian Westbrook be on Sunday? Well, offensive coordinator Marty Mornhinweg isn't sure.
But even without his banged-up star practicing, Mornhinweg said he is able to game plan as if Westbrook will be able to handle a full workload. Westbrook is listed as questionable for the wild card contest with Minnesota on Sunday with ankle and knee injuries that he has been battling for most of the season.
Also complicating Westbrook's situation is the fact that the game will be played on artificial turf, which causes his injuries to swell.
"I really try to put Brian in certain spots. And then when he's not practicing, you don't want to do too much," Mornhinweg said. "However, he is very smart. He makes very few mistakes, so it's not as big of a problem that way when he's not practicing."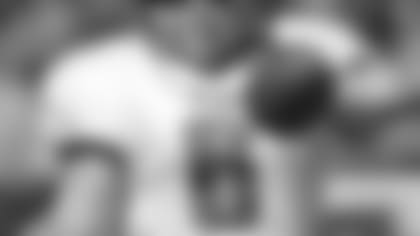 Rocca will benefit from the move indoors
It's been more common for Westbrook to sit out of practices than to participate recently, but the Eagles still were able to make a 4-1 run to end the season and sneak into the playoffs, with Westbrook's help.
Still, it's been obvious that Westbrook is banged up. This led to an increased role for Correll Buckhalter against Dallas last Sunday. Buckhalter, however, answered the call. He gained 122 yards from scrimmage on 13 touches, including a short touchdown reception.
Still, it's no secret the Eagles will still need their star to make an extended run into the postseason. But Buckhalter will be ready to fill in.
"Anybody that is injured and not practicing influences (the team's play). However, we work right around that," Mornhinweg said. "There are some of those plays where the backup is ready and you get him ready that week, of course, so you can use those plays. So, every week is a little bit different that way with players that are banged up."
DE Trent Cole
During his conference call with Philadelphia media on Wednesday, Vikings running back Adrian Peterson went out of his way to compliment the play of Cole, who Peterson called a "beast." Cole is having perhaps his best season as a pro. Cole's sack numbers were down from a year ago, but he still had 98 tackles and nine sacks. He's someone the Vikings are going to account for offensively.
WR DeSean JacksonAfter setting an Eagles' franchise record for most yards and receptions by a rookie wide receiver, Jackson enters the playoffs showing no ill effects from a grueling NFL season. He gives the Eagles an element to their offense that the team has lacked since the departure of Terrell Owens. Perhaps more importantly, however, Jackson is an explosive punt returner and the Vikings have surrendered four punt returns for a touchdown this season.
RB Adrian Peterson
Peterson led the NFL with 1,760 yards and has eclipsed the 100-yard mark in four of the last five games, all four of which were wins. In his lone career game against the Eagles in 2007, however, Peterson was held to 70 yards on 20 carries. Philadelphia enters the contest as the NFC's top-rated defense and it is ranked fourth overall in the NFL against the run.
DE Jared Allen
Minnesota's defense is ranked first against the run but 18th against the pass. However, the pass defense is bolstered by Allen, who was acquired via trade during the offseason. Allen finished the regular season with 14.5 sacks, tied for fifth in the league.
KEEP AN EYE ON ... P Sav Rocca
This will be the first playoff game for the former Aussie Rules star, but Rocca had his coming out party last season in Minnesota at the Metrodome.
He launched two consecutive punts in the fourth quarter for 64 and 65 yards, respectively, in the October 2007 matchup. The 65 yarder remains his career long (it was tied once at Chicago this season), but more importantly it pinned the Vikings back at their own 9-yard line with 15 seconds left to help seal the 23-16 win. Rocca finished the day with a 52.8-yard average and a 42.3 net average. The 52.8-yard gross average remains a career high.
Rocca kicked off this season with a boom as he led the NFL in the month of September with a 44.1 net average. He downed seven of 18 punts inside the 20-yard line and had three bombs of over 60 yards. For his efforts, he won the NFC Special Teams Player of the Month award. For the year, Rocca set the Eagles' single-season franchise record for best net punting average with 38.2 yards. After his first two seasons, Rocca has the best net punting average in Eagles history with a 36.3-yard average.
While the weather is expected to dip into negative numbers, Rocca will be comforted by the protection of the dome.
Vikings tailback Adrian Peterson has run for more yards (1,760) than 13 NFL teams, including the Eagles
Peterson has 85 runs of 10 yards or more since the start of the 2007 season, most in the NFL (Clinton Portis, second-place, has 64)
Eagles quarterback Donovan McNabb surpassed his own franchise record with 3,916 passing yards in 2008
Eagles coach Andy Reid has never lost to the Vikings (4-0)
The Eagles' Super Bowl runs in 1980 and 2004 both started with playoff victories over Minnesota, the teams' only two meetings in the postseason
Eagles cornerback Asante Samuel has three pick-sixes in his postseason career, tied for the most all-time (Hall-of-Famer Willie Brown)
Vikings wide receiver Bernard Berrian is second in the NFL with 20.1 yards per reception
The Vikings tied the NFL lead with six Pro Bowlers. The Eagles will send two to Honolulu
The Vikings possess the NFL's best run defense (76.9 yards per game), but ...
The Eagles' defense ranks first in the NFC in yards allowed (274.3 yards per game)