Souderton High School's football team advanced to 5-1 after defeating Quakertown 34-20 on Friday night in a rivalry game known as the "309 Bowl" -- its namesake is a nod to highway Route 309, which connects the two towns.
A win is always sweeter against a local foe – especially when it's a revenge game. Quakertown defeated Souderton twice last season, but the Indians flipped the script when their quarterback Jared Zimmer threw for 174 yards and a score, plus 11 carries for 64 yards on the ground and a rushing touchdown.
Head Coach Ed Gallagher is pleased about Souderton's hot start to the 2022 campaign, but his team's recent success hasn't come without trials. Souderton's current dominance is a product of Gallagher's persistence to building a winning program – even during the team's most unfavorable hours. All the while, he's found purpose in leading his Souderton students, both in the classroom and on the gridiron.
"I realized this was what I was meant to be. It became a passion and something I just enjoyed doing. I still get up every day looking forward to coming into work and doing what I do," said Gallagher, who was named the Philadelphia Eagles High School Coach of the Week, presented by Hyundai.
Gallagher was hired as the Indians' coach 20 years ago. When he arrived, he inherited a blank slate; the team was on a 14-game losing streak before he took over in 2003.
"When I got the job, I was just hoping to win a game," said Gallagher, reflecting on his first year as head coach. "It was definitely in disarray. I think there were some talented players here, but they just seemed to be lacking direction."
In his inaugural season at the helm of the Indians, the team suffered a similar fate; they went 0-11. But Gallagher didn't shy away from the challenge presented before him. Instead, he committed to growing the program – and it didn't take him his entire 20-year tenure to turn it around. It only took one year of his leadership before the team broke their dragging losing streak and tallied a winning season – they went 9-3 in 2004. Then, they matched that record for three more consecutive years.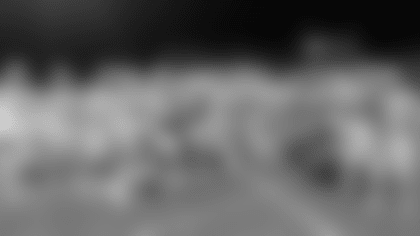 So, how did he transform a perennial losing team into a local competitor?
He says it all started with rebuilding the team's confidence.
"I explained to them that it wasn't going to happen overnight. They had to put the time in, they had to put the work in, and eventually, they'd see the fruits of their labor. It just took a little bit of time to get a little bit stronger and more confident. And once they were, they've been able to compete ever since," said Gallagher.
It's true – Souderton is now a team to be reckoned with. The Indians won their first District Championship in school history in 2020, and they're slated for another competitive season this year.
Coach Gallagher has been instilling confidence in his Souderton players for two decades now, but he still looks forward to each day, teaching math and coaching football on Indian Field.
"The greatest joy is when it clicks, whether I'm teaching math or they're doing something football related that all of a sudden starts to work. All of a sudden, it clicks, and they feel competent, and they have success, and they feel good about doing that. You can see it in their faces. And that's what makes me feel good. And that's what made me want to do it every day," Gallagher said.