You'd be forgiven for forgetting Chris Polk's rookie season. Undrafted out of Washington despite a prolific college career and the expectation that he would be a mid-round draft choice, Polk signed with the Eagles and worked his way onto the roster with an impressive offseason and preseason.
But in the regular season, Polk was little more than a bystander. He played seven games on special teams without accruing one snap on offense. The only time Polk touched the ball during his rookie season was on an end-of-half squib kick, after which he took a knee. Then, a toe injury kept Polk out of the rest of the regular season and landed him on injured reserve. It wasn't exactly the most sparkling debut season, especially in contrast with fellow rookie Bryce Brown.
Now, with a new coach, a new offense and a clean bill of health, Polk has one major goal for his second season.
"Play," Polk said following Friday's Organized Team Activity. "I don't want to sit down any more. I didn't come to this league to be a cheerleader so I just have to take care of my body. I just want to play."
Polk has indeed remade his body throughout his first offseason as a professional. Working tirelessly in the weight room and with new eating habits, Polk has lost 15 pounds and now comes in at a svelte 5-11, 215.
"I wanted to lose (weight) before (head coach Chip  Kelly was hired) because I would see myself on film and be like, 'Man, I don't look too good,' especially with those tight-fitting jerseys. I have to shed a few pounds," Polk said. "I was working out but I was definitely on that diet where whatever you could find, eat. But now, (I'm) definitely (eating) more vegetables. I have a meal plan with the strength coaches, working hard, the shakes, just taking care of my body, taking care of my vitamins and doing what's necessary."
Polk's new frame and stamina will no doubt serve him well in Kelly's offense. In an offense that is likely to feature the running backs, Polk is among a crowded group in the backfield. LeSean McCoy and Bryce Brown are the headliners, while veteran newcomer Felix Jones and undrafted rookie Matthew Tucker join Polk.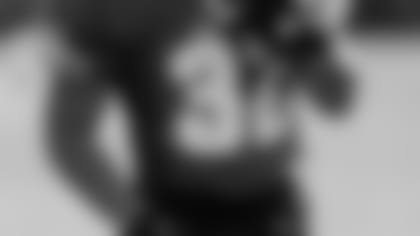 "It's very exciting to have an offense that features the running back, being that we run this high pace, we're going to have to rotate in guys because we can run like six plays in less than a minute," Polk said. "Especially with this high-paced offense, you have to make people miss, run in space, running, catching. You have to have your wind. It was the best thing. It really fit the scheme. Be lighter, be faster, get your wind up."
Polk, though, was not exactly known as a make-you-miss runner in college. It's important, he says, that while he's a bit lighter, he stays true to the pounding running style that has worked so well for him in the past.
"I didn't lose muscle, I lost fat. I'm still as strong as I was, if not stronger. Just adding that speed element and agility to my game, it more helps than hurts," Polk said. "The most important thing about being a running back is stay true to your identity. Whether you're a ground-and-pound guy or a real shifty guy, you can't try to run like someone else because doing what you do is what got you here and doing what you do is what's going to keep you here."
Polk added that the new running scheme requires one very specific trait of its backs – decisiveness.
"We try to get the defense running one way and try to hit it another way," Polk said. "The first hole you see, you have to hit it and get it. No second guessing, no tip-toeing. If you know you're making a mistake, make it 100 miles-an-hour. It's real great being part of a running scheme like this."