Celebrity Corner appears each week during the 2013 season, featuring Eagles fans who have gained fame in their careers of sports, entertainment and popular culture. This week: Kristen Alderson, who starred on One Life to Live as Starr Manning and who is now on General Hospital as Kiki Jerome. Alderson won a Daytime Emmy Award in 2013 for Outstanding Younger Actress In A Drama Series. Follow Kristen on Twitter @krisalderson.
I was born in Huntingdon Valley, Pa., in Holy Redeemer Hospital and I became a fan of the Eagles since, gosh, since I was born. I was born into a family of devoted, crazy Eagles fans. As I got a little bit older and learned more about the game, I became the same kind of fan. By the time I was 7 or 8 years old, I had a Build-A-Bear, a fairy Build-A-Bear to be exact, and I would make a wish with the Bear every time the Eagles played that they would win.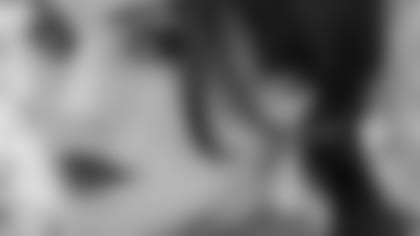 I got my start in Philadelphia on The Al Albert's Show and then went to New York to work on Broadway in Annie as Molly, when I was five. Immediately after Annie, I got the role of Starr on One Life to Live. My father, a Philadelphia police officer, always kept our house in Philadelphia. I went to school in Huntingdon Valley until I was in the eighth grade. I moved to New York City for high school because I was working too much for a high school to accept me in Philly. Even living in NYC, I went home to Philly every weekend. After One Life to Live was cancelled in 2011, I moved to Los Angeles and am now on General Hospital.
I'm a true Philadelphian, even though I live in Los Angeles now. The main concern we had as a family when I moved out here – I have been here for almost two years – was making sure I found a place to watch Eagles games. Fortunately, I heard about a place called "The Shack" in Santa Monica and we went there and watched the games in a packed bar with other Eagles fans. Everyone was doing our "E-A-G-L-E-S, EAGLES" chants. It was so much fun! My brother isn't 21, though, so we had to find another place. Fortunately, my boyfriend moved down the street from me and he's got a 60-inch TV, so my family and I watch it with him now.
Even in LA, I wear my Eagles hat or my DeSean Jackson jersey and I always get a holler from someone who is from Philly or who lives out here and just likes the Eagles. It's cool. However, It's a bit weird to watch games on the West Coast at 10 a.m. I know in Philly they are drinking beers and having a great time, but we just eat breakfast sandwiches and sip on coffee. HAHA
Watching the first game of the season against Washington was so exciting! Almost all of the analysts thought Washington would win. Our new offense, under Chip Kelly, showed them they were clearly mistaken. We looked awake, and FAST. The second half, the Eagles lost their energy a bit (understandably so) ... but it's nothing they can't work on. I'm REALLY enjoying Chip Kelly. When the team is doing well, you see him having a good time, smiling. Nothing against Andy Reid, because we all loved him, but even when we were winning, he never smiled or showed emotion! Chip has a lot of emotion and it seems the team is starting to play that way, too. I'm super excited for this season. I think we're going to show the rest of the league that we're back in business.
My favorite player is DeSean. It seemed like his game just wasn't there the last couple of years, but now he's back with a vengeance and power. I love seeing him pumped up and ready to fight. He's amazing.
I know that this is a big week for the Eagles with Donovan McNabb's number being retired when the Chiefs (and Andy Reid) come into town. I was a big Donovan McNabb fan. Growing up, he was our main quarterback! Our GUY. I'm very happy that Donovan is retiring as an Eagle.
I've been to two or three Eagles games in my life and I'm going to be back in Philadelphia for the game against the Cardinals, and that is going to be AWESOME! I can't wait to be in the stands again with so many Eagles fans who share the same passion!
Staying close to the Eagles helps keep my heart close to Philadelphia. They mean so much to me that my absolute, all-time dream is to sing the national anthem before an Eagles game. That would be such a life highlight, and it is definitely a goal of mine!