Celebrity Corner appears each week during the 2013 season, featuring Eagles fans who have gained fame in their careers of sports, entertainment and popular culture. This week: Daniel Hooven, the lead investigator on Bio Channel's Haunted Encounters: Face To Face, a paranormal show that travels the country exploring the unexplainable. Follow Daniel on Twitter @DanielHooven*
As soon as I was old enough to understand that I liked sports as a kid growing up in Paoli, Pa., I started watching Eagles football. I came in toward the tail end of Randall Cunningham's career – Rodney Peete was the starting quarterback at that time, actually – and ever since then I've been hooked.
I've been obsessed with the Eagles, no matter where I am. Whether I was home or at a friend's house, gameday was time for the Eagles. I don't miss a game.
My love and intensity for the Eagles went full throttle during the Donovan McNabb era. I am so lucky to grow up in that exciting era, with McNabb, Brian Westbrook and Brian Dawkins making every gameday a must see. Those were very successful years with a lot of great memories, but the ultimate disappointment of not winning a Super Bowl is what lingered toward the end of the Andy Reid era for me, and I was honestly ready for a coaching change. Having Chip Kelly here with a fresh start is extremely exciting for me. I would rather go 0-16 with Chip here than have to sit through another 9-7 season with Andy Reid. I just think it was time for a change and was ecstatic when Chip was named the new head coach.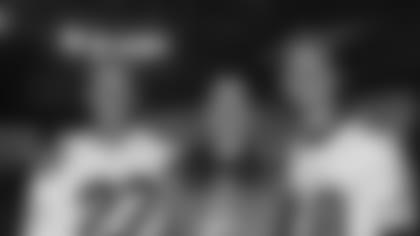 I'm glad Andy is having success in Kansas City, but the Eagles are a team with a fresh start. We needed it. At 2-3, there have obviously been some ups and downs so far this season, but I feel like the building blocks are being put in place for the future. It's an exciting brand of football the Eagles are playing and I have full confidence in Chip doing what is necessary to make this team a championship-caliber squad.
There is certainly a parallel between being an Eagles fan and working in the paranormal. We have had a lot of breathtaking moments as Eagles fans. I mean, there are times when I put my head down and I'm horrified – in a good way – about what's happening on the field. My profession and my experience in the paranormal is similar in certain capacities. You never know what's coming, so you are always on the edge of your seat, so to speak.
If I can survive being an Eagles fan with all of the ups and downs, let's say that has prepared me well for the paranormal. Both fields have a level of uncertainty that leads to the excitement of the unknown and after the experience is over, I am ready for the next week. A lot of fans of the paranormal have their favorite haunted spots, just as they have their favorite NFL teams. You see a lot of loyalty to individuals' hometowns, with my favorite haunted location being Pennhurst State School, managed by fellow Eagles fans.
We're in October, which is a month for the haunted. I look at the Eagles after the win over the Giants and feel like we can make a strong run in the NFC East. I'm a very happy man on Monday after beating the Giants. We all are.
And let me finish with this: The Eagles are anything but a "haunted" franchise. I thought they were haunted by Reid In the last couple of seasons, but now we have a new head coach and a new approach to the game. I'm excited that we're laying the foundation for the future. I'm as excited as I was when McNabb and Reid came in way back in 1999. A new era is here for the Eagles.