Time is not a luxury that the Eagles have at this point in the season.
Just days removed from one of the toughest defeats the Eagles have suffered in recent memory and days before a must-win game against Arizona, Brian Dawkins doesn't have time to dwell on what happened Sunday in Baltimore.
"I'm not going to sit here and tell you we didn't feel bad about that game, that we didn't feel embarrassed coming out of that game," Dawkins said.
"We have no time. We have no time. You guys can dwell on stuff; we have no time. We don't have time for that."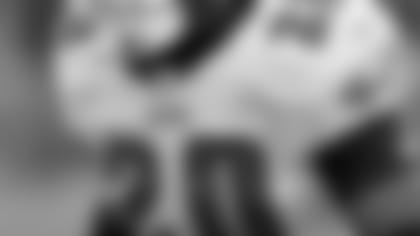 FS Brian Dawkins knows the Eagles don't have time to dwell on Sunday's loss
With just three days between games, Dawkins and the Eagles don't have time for a lot of things. The Eagles have been spending most of their time figuring out how to handle Arizona's array of offensive weapons - Kurt Warner, Anquan Boldin and Larry Fitzgerald.
"We don't have time to dwell on anything that happened last week," Dawkins said. "All we can focus on right now is that we have a very talented group of receivers coming in. We have a quarterback that is playing at an MVP level. So as long as we sit here and answer questions about last week, we won't focus on the task at hand and the task at hand is a very, very confident group coming in that we're going to have to be ready to play (against) and I think we will be."
Warner enters Thursday's Thanksgiving tilt as the NFL's second-leading passer piloting the league's second-best offense. Fitzgerald ranks second in the league in receiving yards and Boldin ranks seventh, making the Cardinals the only team in the NFL with two receivers in the top 10.
"They're beasts out there," cornerback Joselio Hanson said. "They have the No. 1 wide receiver tandem in the league, so it's going to be tough out there. We're just going to try to be as physical as possible. We have to be physical and match their intensity out there. Hopefully, we can make a couple plays on them."
With the Eagles recent offensive struggles, it's only natural for the defense to want to pick up the slack and ratchet up its level of play. Dawkins said that's something the Eagles need to keep from happening on Thursday.
"It's easy to fall into that trap," Dawkins said. "We have enough to think about than putting any more added pressure on ourselves. To me, it's a challenge. It's a tremendous challenge to a prideful group of DBs and D-linemen to get after the quarterback. It's a competition thing. It's one of those challenges as a player that you either cower down to it or you step up to the challenge. I think we have a group of guys in that locker room that's going to step up to this challenge and we're going to have a great time doing it."
That challenge may have just gotten a little more difficult. Asante Samuel has missed both practices so far this week and his status is up in the air for the game against the Cardinals.
Even if Samuel couldn't play, safety Quintin Mikell doesn't think there should be a drop off.
"We're still a confident secondary," Mikell said. "We have guys across the board that can play. They have good players over there, too. We feel like we can come in and get some pressure on the quarterback and try to disrupt their timing, we should be all right."