For a long time, the linebacker position has evoked the most spirited conversation from Eagles fans. This offseason, the team addressed the position by trading for Pro Bowler DeMeco Ryans and drafting California's Mychal Kendricks in the second round. While those two players are expected to open the season in the starting lineup, the man shepherding the position is linebackers coach Mike Caldwell.
Ryans, in his short time thus far with the Eagles, has made a positive impression on his new boss; he's also helped Caldwell when it comes to teaching the young linebackers on the roster.
"I just see a composure and a guy that's been through the battles and has a good understand of overall football," Caldwell said of Ryans. "He has the skillset that you can work with.
"Other than coaches, veteran guys can give guys little tidbits of what they've been through, and he's doing that. You can see him back there and guys understand that he's been through the battles and excelled in those battles, so yeah, they have an open ear to him and he's doing a good job of just giving them a little bit here, a little bit there and they're taking it and running with it."
Ryans, of course, is back in the middle of a 4-3 defense, where he excelled for the Texans prior to last season's switch to a 3-4. In 2011, Ryans was also coming off a torn Achilles late in the 2010 season. Caldwell says he's seen no ill effects of that injury on Ryans thus far.
"So far, everything he's done, there haven't been any limitations," said Caldwell. "He's moving around just like I watched him a few years ago. I watched him and, think about it, he's a veteran, he's taken care of himself and he's at the position now where he's learning the system and it's coming easy to him because he's a football player and he knows the game. So he'll be fine, but physically, he's in great shape.
"Most of the (2011) film I watched, you could see the ability coming back and him getting comfortable and him moving better on the field. As the season progressed, you could see him coming back and being his old self. So I just think that'll continue to happen and he'll get back to that true form."
As for Kendricks, Caldwell wasn't shy when asked if Kendricks has what it takes to open the season in the starting lineup.
"He has the skillset," said Caldwell, "but other than the skillset, he wants to learn. He wants to be great. And he's coming in, he's working hard on the field as well as in the classroom, and, you know, we'll put him out there and put him in the best position to go out there and make plays. He has the ability to do that."
In bringing in Ryans and Kendricks, there is an implicit statement from the Eagles that they are hoping for more from the linebacker position in 2012. That assessment, and any outside criticism of the position, is fair, Caldwell says, but it comes as no surprise.
"I don't think it was too much criticism, because as hard as the media and the fans are on a player, they're going to be ten times harder on themselves," said Caldwell. "They've made plays all their lives and for them not to make those plays or not be in position or make an impact on a game, they're going to want to do that. So I don't think you can say it was too hard on them, because they're going to be harder on themselves anyway."
While Caldwell is preparing for his second season in charge of the linebacker position for the Eagles, this is his first offseason during which he's allowed to work closely with his players. Two 2010 draft picks, Casey Matthews and Brian Rolle, both saw time as a starter in their rookie seasons despite the void of a true offseason. Now, Caldwell has a chance to teach them in a hands-on fashion.
"I wasn't surprised (that Rolle did well as a rookie)," said Caldwell. "I was just encouraged at him being able to take what he's been doing all his life and take it to the next level. What do I expect from him? I expect that to continue. Like right now, he's coming out here and - did he do everything perfect last year? No, but he understands that and he's working day to day to get better at what he's doing.
"He has a knack and a strength and a leverage that is hard to teach and he uses it. The thing about it is he's been that size his whole life. For him to get to this point, he's had to make some adjustments and understand what he needs to do to be able to play at that size."
As for Matthews, he and third-year linebacker Jamar Chaney are now in the position of fighting for a starting job. Both players have the versatility to play all three linebacker positions, but one wonders how Caldwell and the Eagles balance fostering that versatility against giving them a chance to settle into a specific role.
"Right now, we're just teaching scheme; teaching scheme and be versatile, be able to play any position we put you in," Caldwell said. "Different positions have different responsibilities, so just become a total football player and once they do that, wherever they're at, they'll play and they'll succeed.
"I don't want to define (Matthews) in a certain role; he has the versatility to be able to do a couple of different things. As long as he's doing those things well, that's all we ask for - go out there and do your job and do it well and we'll find somewhere for you to play."
What else did Caldwell touch on during his session with the media? Here's a quick rundown of the other topics addressed:
On his first season as a position coach: "One thing, it was great to have my own (meeting) room. Once you get the room, all you can do is try to make the room as good as you can. The guys did everything I asked them to do last year. We learned and we went through some growing pains; we learned together. The thing I like to say is, give me your best, do everything I ask you to do, and go out there and play the game you've always played. And they did that. So, the only thing you can do now is go out there every day and work to get better. I think they have that in their mind."
On whether veterans Moise Fokou and Akeem Jordan are being overlooked: "The way I look at it is, the best three will play. We have training camp and OTAs and all of that to determine that, but the best three will play. Especially with this team, you go out there and you earn your spot. If you go out there and you practice and play hard every day and at the end of the day, the best three guys will be on the field. Right now, just saying that this guy will be the starter or this guy? Training camp's a long time away and so many things happen."
On training camp competition: "I think just the way camp has been run, you'll have your opportunities. A lot of times, two's go against the one's, one's go against the two's, one's versus one's, so, you'll have your opportunity to make your plays against guys and make your mark. There's plenty of time up there, so we always tell guys don't count the line, don't worry about where you're at at this point. The only thing that matters is when the season starts, where you're at then. I think they understand that and they trust that and they just go out there and compete."
On whether the "wide-nine" technique put the linebackers "on an island": "I wouldn't say an island. I would say there are fits that are different. Football is, wherever that ball is, you have to get to it. It might be a six-technique in front of you or a nine-technique, the ball is your objective. Guys start to understand that, yeah, there might be a different fit and you might have to fit it a little different and there might be a gap or two wider or a gap or two closer, but the main thing is getting to the ball. I think once they understood it and saw it a few times, they developed a little comfort in being able to play behind it."
On how different last season would have been with a veteran middle linebacker: "I don't know if it'd been a different deal. I think whether it's a veteran group or a younger group, you want guys that are out there hungry to play. All the guys we had last year, they were hungry, they wanted to play, they did everything we asked. Now, did they have the experience? No. But the only way to get experience is to get out there and play. I think they gained it and I think this offseason being able to spend a little more time with them and build on it, I'm excited about it."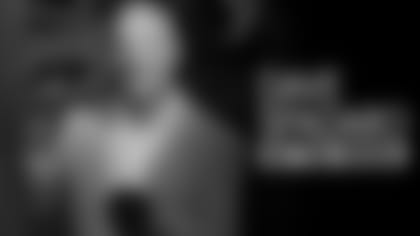 news
Dallas Goedert embraces the opportunity to be TE1
After signing a contract extension last season, Goedert will enter Training Camp as the starter for the first time in his career.