Defensive coordinator Jim Johnson doesn't really recall having a player he used like he uses Asante Samuel.
There seems to be this cloud of doubt that has followed Samuel since he bolted New England for a big contract and big responsibility in Philadelphia. Without New England's 3-4, two-gap defense, how would Samuel produce at the level he did with the Patriots? Over the previous two seasons, Samuel's 16 interceptions led all of football, but he left his comfort zone.
So the term "system cornerback" has been used to describe Samuel. But with an interception in each of the Eagles' past two games, and several near-misses in Week 1, Samuel's come out firing. So for Johnson, Samuel is a "system cornerback," inasmuch as a coach can build a system around him, letting him do what he needs to make plays. So was Samuel the beneficiary of the Patriots' system, or the system the beneficiary of his services?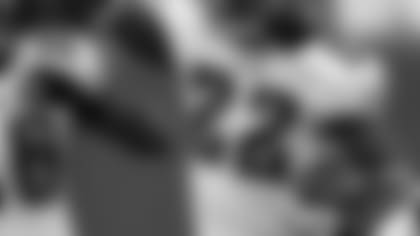 Two picks in three games, talk about an immediate impact
"The thing about Asante is he's been such a playmaker as far as his ball skills, he's probably a very unique guy right there," Johnson said. "I think he's still adjusting to certain techniques we want a little bit, but we're not going to say we're going to start all over with him, too. 'This is what you're used to playing. This is how you play your certain techniques.' I think you have to do that just a little bit, but not entirely."

Point being that a team doesn't sign a top free agent to a megadeal to restrict him to rigid schemes. Samuel wouldn't elaborate on exactly what it is that he's been doing - "I can't tell you guys, because then you'll tell everybody," he joked - but he also said it's evident from film that he's doing a little bit extra to get to the ball, mixing things up from the traditional plans.

Maybe there's something about Samuel that lets him seemingly be in the right place at the right time all of the time. Maybe it's him.

"(The coaches) allow me to play to my strengths. It's a good thing for me, it's a good thing for the defense and the team," Samuel said. "I like to play my style, I like to make plays. I just want to continue to do that and put myself in the best position possible to do that."

The adjustments have had to happen, and Samuel still has to be on his toes – he missed a good chunk of training camp with a hamstring injury. Samuel said that the safeties - Brian Dawkins, Quintin Mikell and Sean Considine - have smoothed the learning curve. He went from one confusing defense to another complicated system.

But there's knowing technique, and there's the talent to put it into action. Last Sunday against Pittsburgh, Samuel blanketed Nate Washington on a go route, outjumped him and outwrestled him for an acrobatic pick.

"That's natural ability, but the thing about it is he's in position," Johnson said. "He's one of those guys who might get a few short passes on him, but he's always in pretty good position."

Samuel's already contributed two interceptions to a team that had an NFL-worst 19 takeaways in 2007, and he could have easily had a couple more. He put more pressure on himself after dropping a couple picks. That's the way, he said, he is.

"I don't want to be one of the guys known (to) get a lot of money and not show up on the field," Samuel said. "I have a lot of pride in myself. And I want to be the best. I want to be the best to ever play the game. So I'm just going to continue to work, stay humble and go make plays."